Astronomy Picture Of the Day (APOD)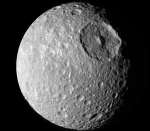 Mimas: Small Moon with a Big Crater
17.05.2009
Whatever hit Mimas nearly destroyed it. What remains is one of the largest impact craters on one of Saturn's smallest moons. The crater, named Herschel after the 1789 discoverer of Mimas, Sir William Herschel, spans about 130 kilometers and is pictured above.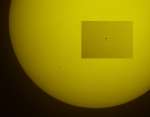 Atlantis and Hubble Side by Side
16.05.2009
On Wednesday, May 13, two, tiny, fast moving spots crossed an otherwise featureless solar disk. Not sunspots though, the dark blemishes were silhouettes of the shuttle orbiter Atlantis and the Hubble Space Telescope side by side.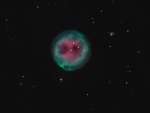 M97: The Owl Nebula
15.05.2009
The Owl Nebula is perched in the sky about 2,600 light-years away toward the bottom of the Big Dipper's bowl. Also cataloged as M97, the 97th object in Messier's well-known list, its round shape along with the placement of two large, dark "eyes" do suggest the face of a staring owl.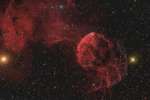 Elusive Jellyfish Nebula
14.05.2009
Normally faint and elusive, the Jellyfish Nebula is caught in this alluring wide-field telescopic view. Flanked by two yellow-tinted stars, Mu and Eta Geminorum, at the foot of a celestial twin, the Jellyfish Nebula is the brighter arcing ridge of emission with dangling tentacles right of center.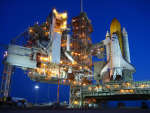 A Space Shuttle Before Dawn
13.05.2009
This shuttle has launched to space. Pictured above, the Space Shuttle Atlantis sat on Launch Pad 39A before dawn last month as it was prepared for the launch. The shuttle itself is visible on the image right, attached to a brown liquid fuel tank and two white solid rocket boosters.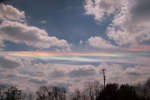 An Iridescent Cloud Over Ohio
12.05.2009
Why would a cloud appear to be different colors? A relatively rare phenomenon known as iridescent clouds can show unusual colors vividly or a whole spectrum of colors simultaneously. These clouds are formed of small water droplets of nearly uniform size.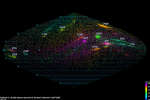 Forty Thousand Meteor Origins Across the Sky
11.05.2009
Where do meteors come from? Visible meteors are typically sand-sized grains of ice and rock that once fragmented from comets. Many a meteor shower has been associated with a known comet, although some intriguing orphan showers do remain.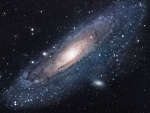 M31: The Andromeda Galaxy
10.05.2009
Andromeda is the nearest major galaxy to our own Milky Way Galaxy. Our Galaxy is thought to look much like Andromeda. Together these two galaxies dominate the Local Group of galaxies. The diffuse light from Andromeda is caused by the hundreds of billions of stars that compose it.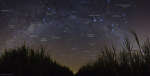 A Starry Night in Brazil
9.05.2009
This panoramic image tracing constellations in the southern sky shows off a beautiful vista toward the center of our Milky Way Galaxy. It was recorded just last month near the city of Campos in northeastern Rio de Janeiro state, Brazil.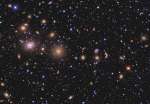 Galaxies of the Perseus Cluster
8.05.2009
This colorful telescopic skyscape is filled with galaxies that lie nearly 250 million light-years away, the galaxies of the Perseus cluster. Their extended and sometimes surprising shapes are seen beyond a veil of foreground stars in our own Milky Way.