Astronomy Picture Of the Day (APOD)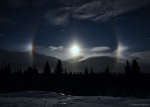 Alaskan Moondogs
21.03.2016
What's happened to the sky? Moonlight illuminates a snowy scene in this night land and skyscape made on 2013 January from Lower Miller Creek, Alaska, USA. Overexposed near the mountainous western horizon is the first quarter Moon itself, surrounded by an icy halo and flanked left and right by moondogs.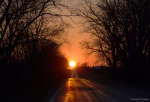 A Picturesque Equinox Sunset
20.03.2016
What's that at the end of the road? The Sun. Many towns have roads that run east - west, and on two days each year, the Sun rises and sets right down the middle. Today is one of those days: an equinox.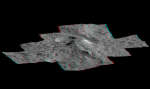 3D Ahuna Mons
19.03.2016
Get out your red/blue glasses and gaze across Ceres at mysterious mountain Ahuna Mons. Shown in a 3D anaglyph perspective view, the mosaicked image data was captured in December of 2015, taken from the Dawn spacecraft's low-altitude mapping orbit about 385 kilometers above the surface of the dwarf planet.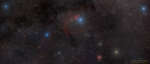 The W in Cassiopeia
18.03.2016
A familiar, zigzag, W pattern in northern constellation Cassiopeia is traced by five bright stars in this colorful and broad mosaic. Stretching about 15 degrees across rich starfields, the celestial scene includes dark clouds, bright nebulae, and star clusters along the Milky Way. In yellow-orange hues Cassiopeia's alpha star Shedar is a standout though.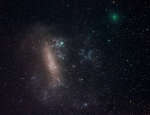 Close Comet and Large Magellanic Cloud
17.03.2016
Sporting a surprisingly bright, lovely green coma Comet 252P/Linear poses next to the Large Magellanic Cloud in this southern skyscape. The stack of telephoto exposures was captured on March 16 from Penwortham, South Australia.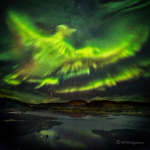 A Phoenix Aurora over Iceland
16.03.2016
All of the other aurora watchers had gone home. By 3:30 am in Iceland, on a quiet night last September, much of that night's auroras had died down. Suddenly though, a new burst of particles streamed down from space, lighting up the Earth's atmosphere once again.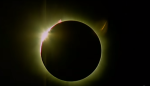 Cheering a Total Solar Eclipse
15.03.2016
What would you do if you saw the Sun disappear? Quite possibly: cheer. That's what many exuberant sky watchers did across Indonesia during a total eclipse of the Sun last week. There and then, the land and sky went dark during the day as our Sun disappeared for a few minutes behind our Moon.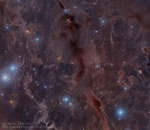 Dark Nebulas across Taurus
14.03.2016
Sometimes even the dark dust of interstellar space has a serene beauty. One such place occurs toward the constellation of Taurus. The filaments featured here can be found on the sky between the Pleiades star cluster and the California Nebula.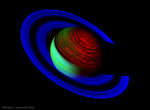 Neon Saturn
13.03.2016
If seen in the right light, Saturn glows like a neon sign. Although Saturn has comparatively little of the element neon, a composite image false-colored in three bands of infrared light highlights features of the giant ringed planet like a glowing sign.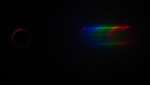 The Flash Spectrum of the Sun
12.03.2016
In a flash, the visible spectrum of the Sun changed from absorption to emission on March 9 during the total solar eclipse. That fleeting moment, at the beginning the total eclipse phase, is captured by telephoto lens and diffraction grating in this image from clearing skies over Ternate, Indonesia.