Astronomy Picture Of the Day (APOD)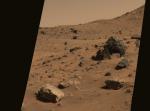 Strangers on Mars
21.07.2006
This view from the winter station of Mars Exploration Rover Spirit, looks across the rock strewn landscape of Gusev Crater. The dark boulders and distant hills are characteristic of the region...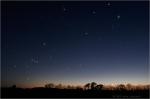 Constellation Construction
20.07.2006
This lovely twilight scene, recorded last April, finds a young crescent Moon low in the west at sunset. Above it, stars shine in the darkening sky but they too are soon to drop below the western horizon.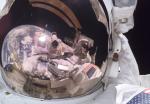 Reflections on Planet Earth
19.07.2006
Catching sight of your reflection in a store window or shiny hubcap can be entertaining and occasionally even inspire a thoughtful moment. So consider this reflective view from 300 kilometers above planet Earth.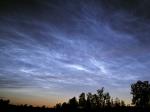 Noctilucent Clouds Over Sweden
18.07.2006
Sometimes it's night on the ground but day in the air. As the Earth rotates to eclipse the Sun, sunset rises up from the ground. Therefore, at sunset on the ground, sunlight still shines on clouds above.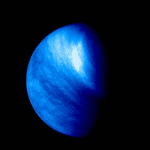 Venus Express Arrives at Venus
17.07.2006
Humanity now has a spacecraft orbiting Venus. The robotic Venus Express spacecraft launched by the European Space Agency in 2005 November arrived at Venus in 2006 April. Venus Express is now orbiting Earth's sister planet and returning pictures.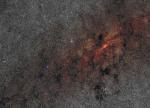 The Galactic Center in Infrared
16.07.2006
The center of our Galaxy is a busy place. In visible light, much of the Galactic Center is obscured by opaque dust. In infrared light, however, dust glows more and obscures less, allowing nearly one million stars to be recorded in the above photograph.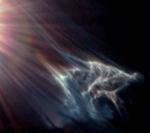 Reflecting Merope
15.07.2006
(xxxedit and linkxxx) In the well known Pleiades star cluster, starlight is slowly destroying this wandering cloud of gas and dust. The star Merope lies just off the upper left edge of this picture from the Hubble Space Telescope.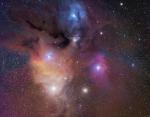 The Colorful Clouds of Rho Ophiuchi
14.07.2006
This stunning mosiac of the sky around bright stars Antares (Alpha Scorpii) and Rho Ophiuchi reveals spectacular colors in a cosmic starscape. Near the top, Rho Ophiuchi and nearby stars are immersed in blue reflection nebulae - dust clouds that shine primarily by reflected starlight.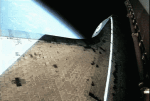 A Space Shuttle Climbs to Orbit
13.07.2006
You are going into space. New small cameras allow anyone with a web browser to virtually ride along with the space shuttle, at times from numerous angles, as it launches into Earth orbit. Small...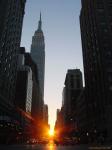 A Manhattan Sunset
12.07.2006
Today, if it is clear, Manhattan will flood dramatically with sunlight just as the Sun sets precisely on the centerline of every street. Usually, the tall buildings that line the gridded streets of New York City's tallest borough will hide the setting Sun.