Astronomy Picture Of the Day (APOD)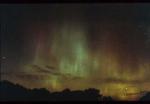 The Case of the Missing Aurora
21.10.1998
Sometimes, near midnight, auroras suddenly stop. Nobody knows why. This nightside gap in aurora was confirmed recently by D. Chua (U. Washington) and colleagues in data from the Ultraviolet Imager onboard the Polar spacecraft.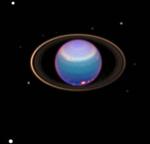 Infrared Uranus
20.10.1998
The Sun's third largest planet usually looks quite dull. Uranus typically appears as a featureless small spot in a small telescope or a featureless large orb in a large telescope. Last August, however...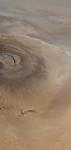 Olympus Mons From Orbit
19.10.1998
Olympus Mons on Mars is the largest volcano in the Solar System. Although three times higher than Earth's Mount Everest, Olympus Mons would not be difficult to climb because of the volcano's great breadth.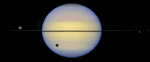 Saturns Rings Seen Sideways
18.10.1998
Saturn's rings are actually very thin. This picture from the Hubble Space Telescope was taken on August 6, 1995 when the rings lined up sideways as seen from Earth. Saturn's largest moon Titan is seen on the left, and Titan's shadow can be seen on Saturn's cloud tops!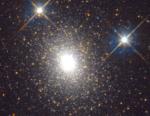 A Giant Globular Cluster in M31
17.10.1998
This cluster of stars, known as G1, is the brightest globular cluster in the whole Local Group of galaxies. Also called Mayall II, it orbits the center of the largest nearby galaxy: M31. G1 contains over 300,000 stars and is almost as old as the entire universe.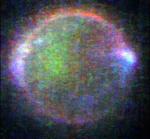 Io Aurora
16.10.1998
Alluring aurora surrounding Io (eye-oh) appear as a ghostly glow while the volcanic moon orbits within Jupiter's dark shadow. Gas giant Jupiter is off to the right of this image, recorded in May by the robot Galileo spacecraft's solid state imaging camera from a distance of about 1.3 million kilometers.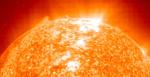 A Great Day For SOHO
15.10.1998
The last 10 days have been great days for SOHO, the space-based SOlar and Heliospheric Observatory. Contact was completely lost with this international research spacecraft over 3 months ago but recovery teams have reacquired control of SOHO and, beginning October 5th, have been successfully switching on its scientific instruments.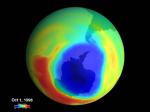 The Worlds Largest Ozone Hole
14.10.1998
It's back, and it's bigger than ever. The ozone hole that has been a cause of concern in recent years has again reformed over Earth's South Pole. The seasonal recurrence of the ozone hole was expected, although the size of the hole has never been so large this early in the season.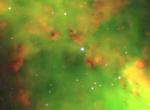 In the Center of the Dumbbell Nebula
13.10.1998
Here's part of the Dumbbell Nebula that you can't see through binoculars. To see this, we suggest a sophisticated spectrograph attached to a telescope with an 8-meter aperture. Pictured above is the central part of the Dumbbell Nebula, also known as M27 and NGC 6853.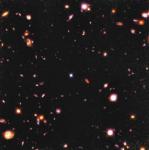 The Hubble Deep Field in Infrared
12.10.1998
Galaxies this faint have never been seen before. In 1996 the Hubble Space Telescope (HST) created one of the most famous pictures of modern astronomy, the Hubble Deep Field (HDF). Now HST has returned to a piece of the HDF for a long exposure by its new NICMOS camera, sensitive to infrared light.