Astronomy Picture Of the Day (APOD)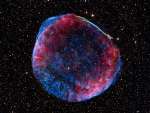 SN 1006 Supernova Remnant
4.07.2008
A new star, likely the brightest supernova in recorded human history, lit up planet Earth's sky in the year 1006 AD. The expanding debris cloud from the stellar explosion, found in the southerly constellation of Lupus, still puts on a cosmic light show across the electromagnetic spectrum.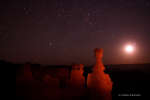 Hoodoo Sky
3.07.2008
The strange-looking rock formations in the foreground of this skyscape are called hoodoos. Towers of weathered, eroded sedimentary rock, hoodoos are found in arid regions of planet Earth and are particularly abundant in an area known as Bryce Canyon National Park in southern Utah, USA.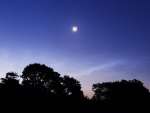 Night Shinings
2.07.2008
In the early morning hours of June 30th, ghostly clouds hovered in the east in this view of near dawn skies over western France. The noctilucent or night-shining clouds lie near the edge of space, reflecting sunlight from about 80 kilometers above Earth's surface.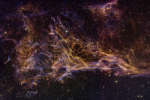 Pickerings Triangle from Kitt Peak
1.07.2008
Wisps like this are all that remain visible of a Milky Way star. About 7,500 years ago that star exploded in a supernova leaving the Veil Nebula, also known as the Cygnus Loop.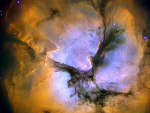 In the Center of the Trifid Nebula
30.06.2008
Clouds of glowing gas mingle with lanes of dark dust in the Trifid Nebula, a star forming region toward the constellation of Sagittarius. In the center, the three huge dark dust lanes that give the Trifid its name all come together.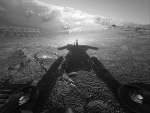 Shadow of a Martian Robot
29.06.2008
What if you saw your shadow on Mars and it wasn't human? Then you might be the Opportunity rover currently exploring Mars. Opportunity and sister robot Spirit have been probing the red planet since early 2004, finding evidence of ancient water, and sending breathtaking images across the inner Solar System.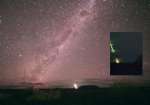 Fireball at Ayers Rock
28.06.2008
A weekend trip for astrophotography in central Australia can result in gorgeous skyscapes. In this example recorded in March of 2006, the center of our Milky Way Galaxy rises over planet Earth's horizon and the large sandstone formation called Uluru, also known as Ayers Rock.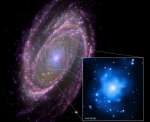 M81: Feeding a Black Hole
27.06.2008
This impressive color composite shows spiral galaxy M81 across the electromagnetic spectrum. It combines X-ray data (blue) from the Chandra Observatory, infrared data (pink) from the Spitzer Space Telescope, and an ultraviolet image (purple) from the GALEX satellite, with a visible light (green) Hubble image.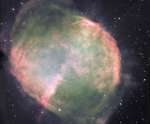 M27: Not A Comet
26.06.2008
Born on June 26th in 1730, astronomer Charles Messier scanned 18th century French skies for comets. To avoid confusion and aid his comet hunting, he diligently recorded this object as number 27 on his list of things which are definitely not comets.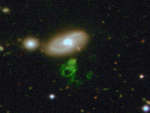 What is Hanny's Voorwerp?
25.06.2008
What is that green thing? A volunteer sky enthusiast surfing through online Galaxy Zoo images has discovered something really strange. The mystery object is unusually green, not of any clear galaxy type, and situated below relatively normal looking spiral galaxy IC 2497.