Astronomy Picture Of the Day (APOD)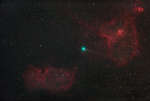 Comet Jacques, Heart and Soul
22.08.2014
On July 13th, a good place to watch Comet Jacques was from Venus. Then, the recently discovered visitor (C/2014 E2) to the inner solar system passed within about 14.5 million kilometers of our sister planet.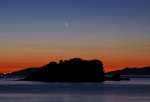 Venus and Jupiter at Dawn
21.08.2014
On Monday morning, Venus and Jupiter gathered close in dawn skies, for some separated by about half the width of a full moon. It was their closest conjunction since 2000, captured here above the eastern horizon before sunrise.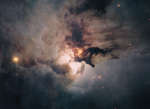 In the Center of the Lagoon Nebula
20.08.2014
The center of the Lagoon Nebula is a whirlwind of spectacular star formation. Visible near the image center, at least two long funnel-shaped clouds, each roughly half a light-year long, have been formed by extreme stellar winds and intense energetic starlight. The tremendously bright nearby star, Hershel 36, lights the area.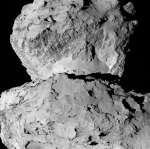 Contrasting Terrains on Comet Churyumov Gerasimenko
19.08.2014
Where should Philae land? As ESA's robotic spacecraft Rosetta circles toward Comet 67P/ Churyumov-Gerasimenko, a decision must eventually be made as to where its mechanical lander should attempt to touch-down. Reaching the comet...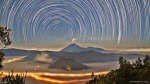 Star Trails Over Indonesia
18.08.2014
Both land and sky were restless. The unsettled land included erupting Mount Semeru in the distance, the caldera of steaming Mount Bromo on the left, flowing fog, and the lights of moving cars along roads that thread between hills and volcanoes in Bromo Tengger Semeru National Park in East Java, Indonesia.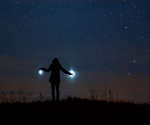 Jupiter and Venus from Earth
17.08.2014
It was visible around the world. The sunset conjunction of Jupiter and Venus in 2012 was visible almost no matter where you lived on Earth. Anyone on the planet with a clear western horizon at sunset could see them.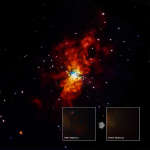 No X rays from SN 2014J
16.08.2014
Last January, telescopes in observatories around planet Earth were eagerly used to watch the rise of SN 2014J, a bright supernova in nearby galaxy M82. Still, the most important observations may have been from orbit where the Chandra X-ray Observatory saw nothing.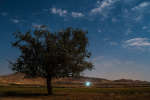 Perseid in Moonlight
15.08.2014
Bright moonlight from a Full Moon near perigee illuminates the night and casts shadows in this skyscape from central Iran. Taken on August 12, near the peak of the annual Perseid meteor shower the exposure also captures a bright and colorful perseid streak above the shady tree in the foreground.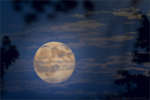 Surreal Moon
14.08.2014
Big, bright, and beautiful, a Full Moon near perigee, the closest point in its elliptical orbit around our fair planet, rose on August 10. This remarkable picture records the scene with a dreamlike quality from the east coast of the United States.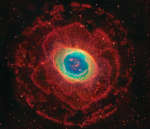 Rings Around the Ring Nebula
13.08.2014
It is a familiar sight to sky enthusiasts with even a small telescope. There is much more to the Ring Nebula (M57), however, than can be seen through a small telescope. The easily visible...