Astronomy Picture Of the Day (APOD)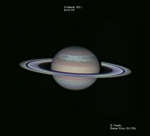 Saturn s Serpent Storm
17.03.2011
Late last year, a new, remarkably bright storm erupted in Saturn's northern hemisphere. Nicknamed "the Serpent Storm", the northern hemisphere disturbance is still going strong and now circles far around the planet. Offering...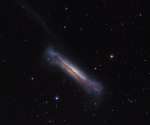 Sideways Galaxy NGC 3628
16.03.2011
Dark dust lanes cut across the middle of this gorgeous island universe, a strong hint that NGC 3628 is a spiral galaxy seen sideways. About 35 million light-years away in the northern springtime constellation...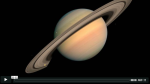 Cassini Approaches Saturn
15.03.2011
What would it look like to approach Saturn in a spaceship? One doesn't have to just imagine -- the Cassini spacecraft did just this in 2004, recording thousands of images along the way, and thousands more since entering orbit.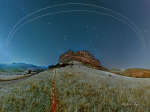 Spacecrafts Streak Over Colorado
14.03.2011
Have you ever seen a "star" drifting slowly overhead, but not known what it was? Sometimes even pointing it out to friends or family will only lead to a shrug. What you are seeing...

A Mars Panorama from the Phoenix Lander
13.03.2011
If you could stand on Mars, what would you see? The robotic Phoenix spacecraft that landed on Mars in 2008 recorded the above spectacular panorama. The above image is actually a digital combination of over 100 camera pointings and surveys fully 360 degrees around the busy robotic laboratory.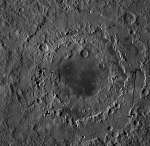 Mare Orientale
12.03.2011
Shaped like a target ring bull's-eye, the Mare Orientale is one of the most striking large scale lunar features. Located on the Moon's extreme western edge, it is unfortunately difficult to see from an earthbound perspective.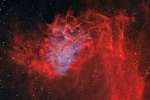 AE Aurigae and the Flaming Star Nebula
11.03.2011
AE Aurigae is the bright star below and left of center in this evocative portrait of IC 405, also known as the Flaming Star Nebula. Embedded in the cosmic cloud, the hot, variable O-type star energizes the glow of hydrogen along convoluted filaments of atomic gas, its blue starlight scattered by interstellar dust.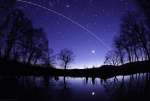 Discovery in Twilight
10.03.2011
As evening twilight faded on March 7, sky gazers around planet Earth enjoyed a beautiful pairing of young crescent Moon and brilliant planet Jupiter. Along with stars setting in the west, the two bright...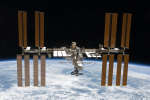 The International Space Station Expands Again
9.03.2011
The developing International Space Station (ISS) has changed its appearance again. In a recently completed rendezvous, the Space Shuttle orbiter Discovery, in its final flight, visited the ISS and added components that included the Leonardo Multi Purpose Logistics Module.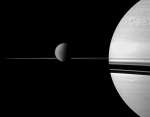 Titan, Rings, and Saturn from Cassini
8.03.2011
How thin are the rings of Saturn? Saturn's rings to be about one kilometer thick, making them many times thinner, in relative proportion, than a razor blade. This thinness sometimes appears in dramatic fashion during an image taken nearly along the ring plane.