Astronomy Picture Of the Day (APOD)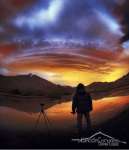 Time Lapse Clouds and Sky Over the Canary Islands
16.05.2011
If you could sit back and watch clouds and the sky move all night and day, what might you see? One answer from the island of Tenerife, captured over the course of the year, includes sequences that are not only breathtaking but instructive.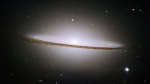 The Sombrero Galaxy from Hubble
15.05.2011
What's going on in the center of this spiral galaxy? Named the Sombrero Galaxy for its hat-like resemblance, M104 features a prominent dust lane and a bright halo of stars and globular clusters.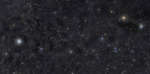 The Little Dipper
14.05.2011
At 2nd magnitude, Polaris is far from the brightest star in the night sky. But it is the brightest star at the left of this well-composed, starry mosaic spanning about 23 degrees across the northern sky asterism dubbed the Little Dipper.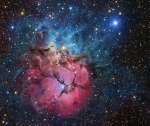 A Beautiful Trifid
13.05.2011
The beautiful Trifid Nebula is a cosmic study in colorful contrasts. Also known as M20, it lies about 5,000 light-years away toward the nebula rich constellation Sagittarius. A star forming region...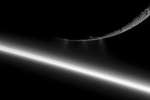 Enceladus Looms
12.05.2011
A sunlit crescent of Saturn's moon Enceladus looms above the night side of Saturn in this dramatic image from the Cassini spacecraft. Captured on August 13, 2010 looking in a sunward direction during...

The Southern Cliff in the Lagoon
11.05.2011
Undulating bright ridges and dusty clouds cross this close-up of the nearby star forming region M8, also known as the Lagoon Nebula. A sharp, false-color composite of narrow band visible and broad band near-infrared...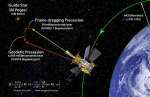 Gravity Probe B Confirms the Existence of Gravitomagnetism
10.05.2011
Does gravity have a magnetic counterpart? Spin any electric charge and you get a magnetic field. Spin any mass and, according to Einstein, you should get a very slight effect that acts something like magnetism. This effect is expected to be so small that it is beyond practical experience and ground laboratory measurement.

Wonder and Mystery above the Very Large Telescopes
9.05.2011
What's that bright orange dot above the large telescope on the right? Even seasoned sky enthusiasts might ponder the origin of the orange orb seen by scrolling across this panoramic image, taken last December. Perhaps identifying known objects will help.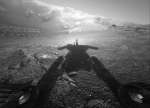 Shadow of a Martian Robot
8.05.2011
What if you saw your shadow on Mars and it wasn't human? Then you might be the Opportunity rover currently exploring Mars. Opportunity and sister robot Spirit have been probing the red planet since early 2004, finding evidence of ancient water, and sending breathtaking images across the inner Solar System.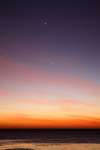 Dawn of the Planets
7.05.2011
This month, four of the five naked-eye planets gather along the eastern horizon near dawn. The celestial grouping is seen here just before sunrise on May 5, from a beach near Buenos Aires, Argentina. Starting near the top of the frame, the brightest beacon is Venus.