Astronomy Picture Of the Day (APOD)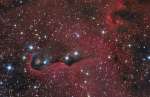 The Elephant s Trunk Nebula in Cepheus
19.01.2017
Like an illustration in a galactic Just So Story, the Elephant's Trunk Nebula winds through the emission nebula and young star cluster complex IC 1396, in the high and far off constellation of Cepheus. Also known as vdB 142, the cosmic elephant's trunk is over 20 light-years long.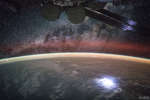 Space Station Vista: Planet and Galaxy
18.01.2017
If you could circle the Earth aboard the International Space Station, what might you see? Some amazing vistas, one of which was captured in this breathtaking picture in mid-2015. First, visible at the top, are parts of the space station itself including solar panels.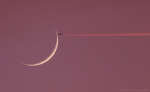 Fly Me to the Moon
17.01.2017
No, this is not a good way to get to the Moon. What is pictured is a chance superposition of an airplane and the Moon. The contrail would normally appear white, but the large volume of air toward the setting Sun preferentially knocks away blue light, giving the reflected trail a bright red hue.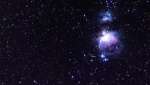 Geostationary Highway through Orion
16.01.2017
Put a satellite in a circular orbit about 42,000 kilometers from the center of the Earth and it will orbit once in 24 hours. Because that matches Earth's rotation period, it is known as a geosynchronous orbit.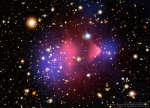 The Matter of the Bullet Cluster
15.01.2017
What's the matter with the Bullet Cluster? This massive cluster of galaxies (1E 0657-558) creates gravitational lens distortions of background galaxies in a way that has been interpreted as strong evidence for the leading theory: that dark matter exists within.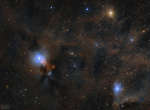 Stardust in the Perseus Molecular cloud
14.01.2017
Clouds of stardust drift through this deep skyscape. The cosmic scene spans nearly 2 degrees across the Perseus molecular cloud some 850 light-years away. A triangle of dusty nebulae reflecting light from embedded stars is captured in the telescopic field of view.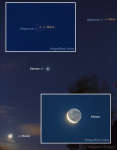 When Mars met Neptune
13.01.2017
On January 1, a Mars-assisted viewing opportunity allowed binocular-equipped skygazers to cross an ice giant off their life list. Remarkably, the line-of-sight to the bright Red Planet could guide you to within 0.02 degrees of a faint, pale Neptune in Earth's night skies.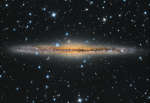 Edge On NGC 891
12.01.2017
Large spiral galaxy NGC 891 spans about 100 thousand light-years and is seen almost exactly edge-on from our perspective. In fact, about 30 million light-years distant in the constellation Andromeda, NGC 891 looks a lot like our Milky Way.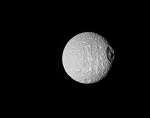 Mimas, Crater, and Mountain
11.01.2017
Mimas is an icy, crater-pocked moon of Saturn a mere 400 kilometers (250 miles) in diameter. Its largest crater Herschel is nearly 140 kilometers wide. About a third the diameter of Mimas itself, Herschel crater gives the small moon an ominous appearance, especially for scifi fans of the Death Star battlestation of Star Wars fame.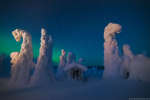 Sentinels of a Northern Sky
10.01.2017
Who guards the north? The featured picture was taken last March in Finnish Lapland where weather can include sub-freezing temperatures and driving snow. Surreal landscapes sometimes result, where white alien-looking sentinels seem to patrol the landscape.