Astronomy Picture Of the Day (APOD)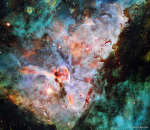 Clouds of the Carina Nebula
2.05.2021
What forms lurk in the mists of the Carina Nebula? The dark ominous figures are actually molecular clouds, knots of molecular gas and dust so thick they have become opaque. In comparison, however, these clouds are typically much less dense than Earth's atmosphere.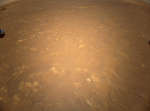 Perseverance from Ingenuity
1.05.2021
Flying at an altitude of 5 meters (just over 16 feet), on April 25 the Ingenuity helicopter snapped this sharp image. On its second flight above the surface of Mars, its color camera was looking back toward Ingenuity's current base at Wright Brothers Field and Octavia E.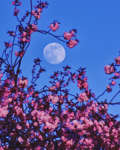 Pink and the Perigee Moon
30.04.2021
On April 25 a nearly full moon rose just before sunset. Welcomed in a clear blue sky and framed by cherry blossoms, its familiar face was captured in this snapshot from Leith, Edinburgh, Scotland. Known to some as a Pink Moon, April's full lunar phase occurred with the moon near perigee.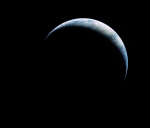 Apollo 17: The Crescent Earth
29.04.2021
Our fair planet sports a curved, sunlit crescent against the black backdrop of space in this stunning photograph. From the unfamiliar perspective, the Earth is small and, like a telescopic image of a distant planet, the entire horizon is completely within the field of view.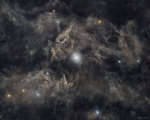 North Star: Polaris and Surrounding Dust
28.04.2021
Why is Polaris called the North Star? First, Polaris is the nearest bright star toward the north spin axis of the Earth. Therefore, as the Earth turns, stars appear to revolve around Polaris, but Polaris itself always stays in the same northerly direction -- making it the North Star.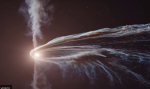 Animation: Black Hole Star Shredder
27.04.2021
What happens if a star gets too close to a black hole? The black hole can rip it apart -- but how? It's not the high gravitational attraction itself that's the problem -- it's the difference in gravitational pull across the star that creates the destruction.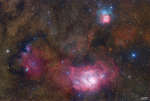 A Sagittarius Triplet
26.04.2021
These three bright nebulae are often featured on telescopic tours of the constellation Sagittarius and the crowded starfields of the central Milky Way. In fact, 18th century cosmic tourist Charles Messier cataloged two of them; M8, the large nebula below and right of center, and colorful M20 near the top of the frame.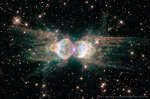 Planetary Nebula Mz3: The Ant Nebula
25.04.2021
Why isn't this ant a big sphere? Planetary nebula Mz3 is being cast off by a star similar to our Sun that is, surely, round. Why then would the gas that is streaming away create an ant-shaped nebula that is distinctly not round?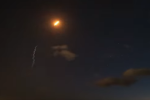 Streak and Plume from SpaceX Crew2 Launch
24.04.2021
What's happening in the sky? The pre-dawn sky first seemed relatively serene yesterday morning over Indian Harbor Beach in Florida, USA. But then it lit up with a rocket launch. Just to the north, NASA's SpaceX Crew-2 Mission blasted into space aboard a powerful Falcon 9 rocket.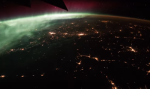 Flying Over the Earth at Night II
23.04.2021
Recorded during 2017, timelapse sequences from the International Space Station are compiled in this serene video of planet Earth at Night. Fans of low Earth orbit can start by enjoying the view as green and red aurora borealis slather up the sky.