Astronomy Picture Of the Day (APOD)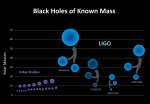 Black Holes of Known Mass
2.06.2017
Add GW170104 to the chart of black holes with known mass. The extremely energetic merger of two smaller black holes corresponds to the Laser Interferometer Gravitational-wave Observatory's (LIGO) third detection of gravitational waves.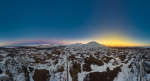 Shadowrise and Sunset
1.06.2017
The road tracking through this stunning 360 degree view crosses a remote mountain area of Jämtland, Sweden, planet Earth. A 3x8 mosaic of still images, the panorama was taken on May 3rd from a small drone 200 meters above the ground.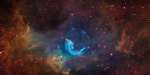 Approaching the Bubble Nebula
31.05.2017
What would it look like to approach the Bubble Nebula? Blown by the wind and radiation from a massive star, this bubble now spans seven light-years in diameter. The hot star inside is thousands of times more luminous than our Sun, and is now offset from the nebula's center.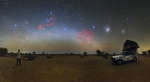 A Kalahari Sky
30.05.2017
You wake up in the Kalahari Desert in Botswana, Africa. You go outside your tent, set up your camera, and take long exposures of the land and sky. What might you see? Besides a lot of blowing dust and the occasional acacia tree, you might catch many sky wonders.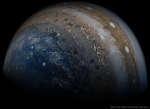 Beneath Jupiter
29.05.2017
Jupiter is stranger than we knew. NASA's Juno spacecraft has now completed its sixth swoop past Jupiter as it moves around its highly elliptical orbit. Pictured, Jupiter is seen from below where, surprisingly, the horizontal bands that cover most of the planet disappear into swirls and complex patterns.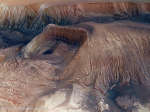 Collapse in Hebes Chasma on Mars
28.05.2017
What's happened in Hebes Chasma on Mars? Hebes Chasma is a depression just north of the enormous Valles Marineris canyon. Since the depression is unconnected to other surface features, it is unclear where the internal material went.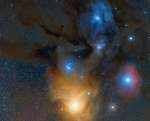 Comet Clark is near the Edge.
27.05.2017
Sweeping through this stunning field of view, Comet 71P/Clark really is in the foreground of these cosmic clouds. The 2 panel telescopic mosaic is color enhanced and is about 5 degrees (10 full moons) across.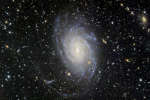 Spiral Galaxy NGC 6744
26.05.2017
Big, beautiful spiral galaxy NGC 6744 is nearly 175,000 light-years across, larger than our own Milky Way. It lies some 30 million light-years distant in the southern constellation Pavo appearing as a faint, extended object in small telescopes. We see the disk of the nearby island universe tilted towards our line of sight.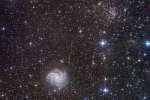 Star Cluster, Spiral Galaxy, Supernova
25.05.2017
A cosmic snapshot from May 19, this colorful telescopic field of view spans about 1 degree or 2 full moons on the sky. Spiky in appearance, foreground Milky Way stars are scattered toward...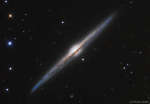 NGC 4565: Galaxy on Edge
24.05.2017
Is our Galaxy this thin? We believe so. Magnificent spiral galaxy NGC 4565 is viewed edge-on from planet Earth. Also known as the Needle Galaxy for its narrow profile, bright NGC 4565 is a stop on many telescopic tours of the northern sky, in the faint but well-groomed constellation Coma Berenices.