Astronomy Picture Of the Day (APOD)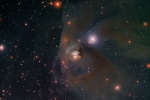 T Tauri: A Star is Formed
3.08.2009
What does a star look like when it is forming? The prototypical example is the variable star T Tauri, visible as the bright orange star near the image center. The orange star centered in this remarkable telescopic skyview is T Tauri, prototype of the class of T Tauri variable stars.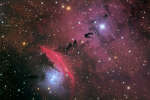 Stars, Dust and Nebula in NGC 6559
2.08.2009
When stars form, pandemonium reigns. A textbook case is the star forming region NGC 6559. Visible above are red glowing emission nebulas of hydrogen, blue reflection nebulas of dust, dark absorption nebulas of dust, and the stars that formed from them.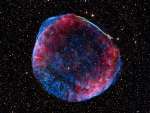 SN 1006 Supernova Remnant
1.08.2009
A new star, likely the brightest supernova in recorded human history, lit up planet Earth's sky in the year 1006 AD. The expanding debris cloud from the stellar explosion, found in the southerly constellation of Lupus, still puts on a cosmic light show across the electromagnetic spectrum.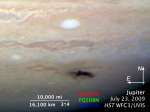 Hubble View: Jupiter Impact
31.07.2009
This sprawling dark marking is Jupiter's latest impact scar, a debris plume created as a small asteroid or comet disintegrated after plunging into the gas giant's atmosphere. Located in Jupiter's south polar region, the new feature was discovered by Australian amateur astronomer Anthony Wesley on July 19.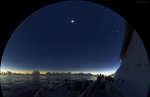 6 Minutes 42 Seconds
30.07.2009
The July 22nd total solar eclipse was the longest of the 21st century. From the point of maximum eclipse along the Moon's shadow track across the Pacific Ocean, the Moon completely blocked the Sun for a total of 6 minutes and 39 seconds.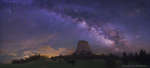 The Milky Way Over Devils Tower
29.07.2009
Was Devil's Tower once an explosive volcano? Famous for its appearance in films such as Close Encounters, the origin of Devil's Tower in Wyoming, USA is still debated, with a leading hypothesis holding that it is a hardened lava plume that probably never reached the surface to become a volcano.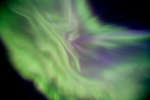 A Floral Aurora Corona
28.07.2009
Few auroras show this level of detail. Above, a standard digital camera captured a particularly active and colorful auroral corona that occurred last week above Alberta, Canada. With a shape reminiscent of a flower, the spectacular aurora had an unusually high degree of detail.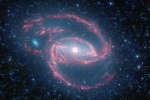 NGC 1097: Spiral Galaxy with a Central Eye
27.07.2009
What's happening at the center of spiral galaxy NGC 1097? No one is sure, but it likely involves a supermassive black hole. Matter falling in from a bar of stars and gas across the center is likely being heated by an extremely energetic region surrounding the central black hole.
The Big Corona
26.07.2009
Most photographs don't adequately portray the magnificence of the Sun's corona. Seeing the corona first-hand during a total solar eclipse is best. The human eye can adapt to see features and extent that photographic film usually cannot. Welcome, however, to the digital age.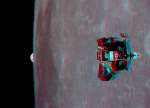 The Eagle Rises
25.07.2009
Get out your red/blue glasses and check out this remarkable stereo view from lunar orbit. Created from two photographs (AS11-44-6633, AS11-44-6634) taken by astronaut Michael Collins forty years ago during the 1969 Apollo...