Astronomy Picture Of the Day (APOD)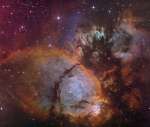 The Colors of IC 1795
10.12.2009
This colorful cosmic portrait features glowing gas and dark dust clouds in IC 1795, a star forming region in the northern constellation Cassiopeia. The nebula's colors were created by adopting the Hubble false-color...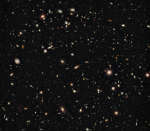 HUDF Infrared: Dawn of the Galaxies
9.12.2009
When did galaxies form? To help find out, the deepest near-infrared image of the sky ever has been taken of the same field as the optical-light Hubble Ultra Deep Field (HUDF) in 2004. The new image was taken this summer by the newly installed Wide Field Camera 3 on the refurbished Hubble Space Telescope.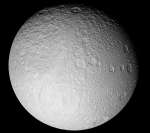 Ice Moon Tethys from Saturn Orbiting Cassini
8.12.2009
What processes formed the unusual surface of Saturn's moon Tethys? To help find out, NASA sent the robotic Cassini spacecraft right past the enigmatic ice moon in 2005. Pictured above is one of the highest resolution images of an entire face of Tethys yet created.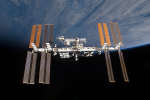 The International Space Station Over the Horizon
7.12.2009
This was home. Just over a week ago, the STS-129 crew of the Space Shuttle Atlantis undocked from the International Space Station (ISS) and returned to Earth. As the shuttle departed the space station, they took the above image. Visible on the ISS are numerous modules, trusses, and long wing-like solar panels.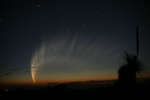 The Magnificent Tail of Comet McNaught
6.12.2009
Comet McNaught, the Great Comet of 2007, was the brightest comet of the last 40 years. Its spectacular tail spread across the sky and was breathtaking to behold from dark locations for many Southern Hemisphere observers.

Himalayan Skyscape
5.12.2009
Capella, alpha star of the constellation Auriga, rises over Mt. Everest in this panoramic view of the top of the world at night. The scene was recorded in late November near Namche Bazar, Nepal, gateway to the Himalayan mountain range.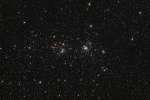 The Double Cluster
4.12.2009
A lovely starfield in the heroic northern constellation Perseus holds this famous pair of open or galactic star clusters, h and Chi Perseii. Also cataloged as NGC 869 (right) and NGC 884, both clusters are about 7,000 light-years away and contain stars much younger and hotter than the Sun.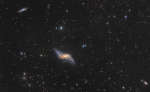 Polar Ring Galaxy NGC 660
3.12.2009
NGC 660 lies near the center of this intriguing field of galaxies swimming within the boundaries of the constellation Pisces. Over 20 million light-years away, its peculiar appearance marks it as a polar ring galaxy.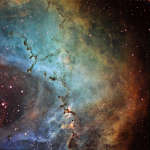 Dust Sculptures in the Rosette Nebula
2.12.2009
What creates the cosmic dust sculptures in the Rosette Nebula? Noted for the common beauty of its overall shape, parts of the Rosette Nebula, also known as NGC 2237, show beauty even when viewed up close.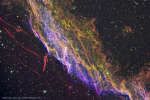 NGC 6992: Filaments of the Veil Nebula
1.12.2009
Wisps like this are all that remain visible of a Milky Way star. About 7,500 years ago that star exploded in a supernova leaving the Veil Nebula, also known as the Cygnus Loop.