Astronomy Picture Of the Day (APOD)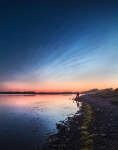 The Veins of Heaven
19.06.2020
Transfusing sunlight through a darkened sky, this beautiful display of noctilucent clouds was captured earlier this week, reflected in calm waters from Nykobing Mors, Denmark. From the edge of space, about 80 kilometers above...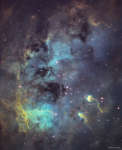 The Tadpoles of IC 410
18.06.2020
This telescopic close-up shows off the central regions of otherwise faint emission nebula IC 410, captured under backyard suburban skies with narrowband filters. It also features two remarkable inhabitants of the cosmic pond of gas and dust. Below and right of center are the tadpoles of IC 410.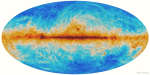 Magnetic Streamlines of the Milky Way
17.06.2020
What role do magnetic fields play in interstellar physics? Analyses of observations by ESA's Planck satellite of emission by small magnetically-aligned dust grains reveal previously unknown magnetic field structures in our Milky Way Galaxy -- as shown by the curvy lines in the featured full-sky image.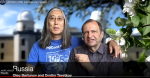 APOD is 25 Years Old Today
16.06.2020
Welcome to the quadranscentennial year of the Astronomy Picture of the Day. Perhaps a source of consistency for some, APOD is still here. To help celebrate APOD's Silver Anniversary, some of APOD's TVAoTaSMD have recorded a birthday greeting and thanks to APOD's readership in today's featured video.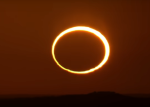 A Ring of Fire Sunrise Solar Eclipse
15.06.2020
What's rising above the horizon behind those clouds? It's the Sun. Most sunrises don't look like this, though, because most sunrises don't include the Moon. In the early morning of 2013 May 10, however, from Western Australia, the Moon was between the Earth and the rising Sun.

Happy People Dancing on Planet Earth
14.06.2020
What are these humans doing? Dancing. Many humans on Earth exhibit periods of happiness, and one method of displaying happiness is dancing. Happiness and dancing transcend national boundaries and occur in practically every human society. Above, Matt Harding traveled through many nations on Earth, planned on dancing, and filmed the result.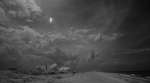 SpaceX Demo-2 Launch
13.06.2020
Clouds are white but the sky is dark in this snapshot of Launch Complex 39A at the Kennedy Space Center. The dramatic daytime sky is partly due to the black and white photo captured with a digital camera at near-infrared wavelengths. Taken at 3:22 p.m.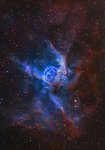 NGC 2359: Thor s Helmet
12.06.2020
NGC 2359 is a helmet-shaped cosmic cloud with wing-like appendages popularly called Thor's Helmet. Heroically sized even for a Norse god, Thor's Helmet is about 30 light-years across. In fact, the helmet...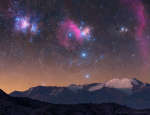 Orion over Argentine Mountains
9.06.2020
Do you recognize the constellation of Orion? It may be harder than usual in today's featured image because the camera has zoomed in on the center, and the exposure is long enough to enhance nebulas beyond what the unaided human eye can see.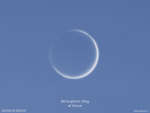 Atmospheric Ring of Venus
8.06.2020
Why is Venus surrounded by a bright ring? Sometimes called a ring of fire, this rare ring is caused by the Sun's light being visible all around an object. Usually seen around...