Astronomy Picture Of the Day (APOD)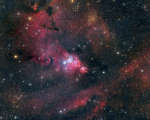 Cosmic Clouds in the Unicorn
7.02.2020
Interstellar clouds of hydrogen gas and dust abound in this gorgeous skyscape. The 3 degree wide field of view stretches through the faint but fanciful constellation Monoceros, the Unicorn. A star forming region cataloged as NGC 2264 is centered, a complex jumble of cosmic gas, dust and stars about 2,700 light-years distant.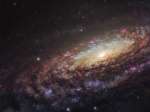 NGC 7331 Close Up
6.02.2020
Big, beautiful spiral galaxy NGC 7331 is often touted as an analog to our own Milky Way. About 50 million light-years distant in the northern constellation Pegasus, NGC 7331 was recognized early on as a spiral nebula and is actually one of the brighter galaxies not included in Charles Messier's famous 18th century catalog.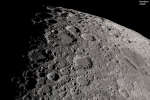 Southern Moonscape
5.02.2020
The Moon's south pole is near the top of this detailed telescopic view. Looking across the rugged southern lunar highlands it was captured from southern California, planet Earth. At the Moon's third quarter phase the lunar terminator, the sunset shadow line, is approaching from the left.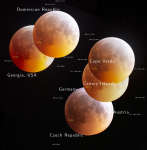 Lunar Eclipse Perspectives
4.02.2020
Do we all see the same Moon? Yes, but we all see it differently. One difference is the apparent location of the Moon against background stars -- an effect known as parallax. We humans use the parallax between our eyes to judge depth.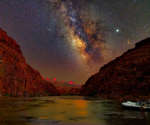 A Sunset Night Sky over the Grand Canyon
3.02.2020
Seeing mountain peaks glow red from inside the Grand Canyon was one of the most incredible sunset experiences of this amateur photographer's life. They appeared even more incredible later, when digitally combined with an exposure of the night sky -- taken by the same camera and from the same location -- an hour later.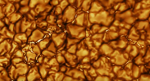 Solar Granules at Record High Resolution
2.02.2020
Why does the Sun's surface keep changing? The help find out, the US National Science Foundation (NSF) has built the Daniel K. Inouye Solar Telescope in Hawaii, USA. The Inouye telescope...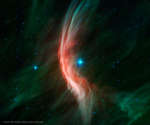 Zeta Oph: Runaway Star
1.02.2020
Like a ship plowing through cosmic seas, runaway star Zeta Ophiuchi produces the arcing interstellar bow wave or bow shock seen in this stunning infrared portrait. In the false-color view, bluish Zeta...
Apollo 14 Heads for Home
31.01.2020
When leaving lunar orbit in February 1971, the crew of Apollo 14 watched this Earthrise from their command module Kittyhawk. With Earth's sunlit crescent just peaking over the lunar horizon, the cratered terrain in the foreground is along the lunar farside.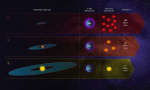 Goldilocks Zones and Stars
30.01.2020
The Goldilocks zone is the habitable zone around a star where it's not too hot and not too cold for liquid water to exist on the surface of orbiting planets. This intriguing infographic...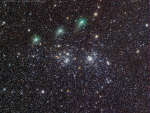 Two Custers and a Comet
29.01.2020
This lovely starfield spans some four full moons (about 2 degrees) across the heroic northern constellation of Perseus. In telescopic exposures made during the nights of January 24, 26, and 28 it holds...