Astronomy Picture Of the Day (APOD)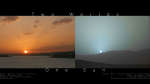 APOD: 2020 August 2 Б Two Worlds One Sun
2.08.2020
How different does sunset appear from Mars than from Earth? For comparison, two images of our common star were taken at sunset, one from Earth and one from Mars. These images were scaled to have same angular width and featured here side-by-side.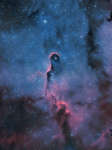 The Elephant's Trunk Nebula in Cepheus
1.08.2020
Like an illustration in a galactic Just So Story, the Elephant's Trunk Nebula winds through the emission nebula and young star cluster complex IC 1396, in the high and far off constellation of Cepheus. Also known as vdB 142, the cosmic elephant's trunk is over 20 light-years long.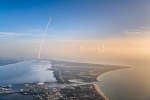 Mars 2020 from 5,000 Feet
31.07.2020
On Thursday this snapshot from a small plane 5,000 feet above Florida's Space Coast caught a rocket's trail rising into the blue morning sky. It was July's third launch of a mission from planet Earth bound for Mars.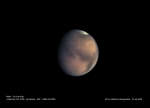 The Red Planet Mars
30.07.2020
Mars looks pretty sharp in this backyard telescope image captured on July 23 from Hoegaarden, Belgium, planet Earth. The Red Planet's bright south polar cap is bathed in sunlight at the top of the inverted view, while the dark feature known as Syrtis Major extends toward the right (eastern) edge.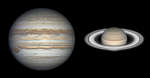 The Giants of Summer
29.07.2020
As Comet NEOWISE sweeps through northern summer skies, Jupiter and Saturn are shining brightly, near opposition. With Jupiter opposite the Sun on July 14 and Saturn on July 21, the giant planets are still near their closest to planet Earth in 2020.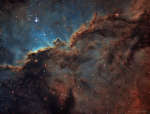 APOD: 2020 July 28 Б NGC 6188: The Dragons of Ara
28.07.2020
Dark shapes with bright edges winging their way through dusty NGC 6188 are tens of light-years long. The emission nebula is found near the edge of an otherwise dark and large molecular cloud in the southern constellation Ara, about 4,000 light-years away.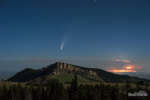 APOD: 2020 July 27 Б Comet and Lightning Beyond Bighorn Mountains
27.07.2020
Normally, Steamboat Point looks cool -- but not this cool. Every day, the iconic peak of the Bighorn Mountains is an interesting sight, in particular from US Highway 14 in Wyoming. On some rare days, the rocky vertical ridges look even more incredible when seen in front of a distant lightning storm.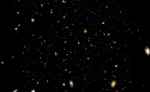 APOD: 2020 July 26 Б A Flight through the Hubble Ultra Deep Field
26.07.2020
What would it look like to fly through the distant universe? To find out, a team of astronomers estimated the relative distances to over 5,000 galaxies in one of the most distant fields of galaxies ever imaged: the Hubble Ultra Deep Field (HUDF).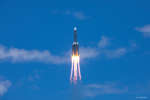 Tianwen 1 Mission to Mars
25.07.2020
On July 23, this Long March 5 heavy-lift rocket rose into a blue morning sky from China's Hainan Island Wenchang Satellite Launch Center. The rocket carried an orbiter, lander, and rover to ask Heavenly Questions on the ambitious Tianwen-1 mission to Mars.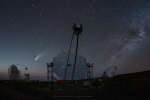 MAGIC NEOWISE
24.07.2020
The multi-mirror, 17 meter-diameter MAGIC telescopes reflect this starry night sky from the Roque de los Muchachos European Northern Observatory on the Canary Island of La Palma. MAGIC stands for Major Atmospheric Gamma Imaging...