Astronomy Picture Of the Day (APOD)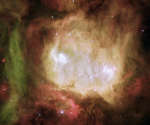 Halloween and the Ghost Head Nebula
31.10.2010
Halloween's origin is ancient and astronomical. Since the fifth century BC, Halloween has been celebrated as a cross-quarter day, a day halfway between an equinox (equal day / equal night) and a solstice (minimum day / maximum night in the northern hemisphere). With a modern calendar, however, the real cross-quarter day will occur next week.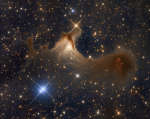 Ghost of the Cepheus Flare
30.10.2010
Spooky shapes seem to haunt this starry expanse, drifting through the night in the royal constellation Cepheus. Of course, the shapes are cosmic dust clouds faintly visible in dimly reflected starlight. Far from your...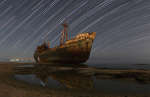 Star Trails and the Captain s Ghost
29.10.2010
Look closely at this surreal nightscape. In the dreamlike scene, star trails arc over an old ship run aground on a beach near Gytheio, Peloponnesus in southern Greece. Could that be the captain's ghost haunting the beach, gazing forlornly at the decaying wreck, hovering over starlight reflected in still water?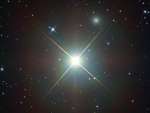 Mirach s Ghost
28.10.2010
As far as ghosts go, Mirach's Ghost isn't really that scary. In fact, Mirach's Ghost is just a faint, fuzzy galaxy, well known to astronomers, that happens to be seen nearly along the line-of-sight to Mirach, a bright star. Centered in this star field, Mirach is also called Beta Andromedae.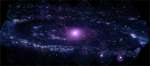 Ultraviolet Andromeda
27.10.2010
This stunning vista represents the highest resolution image ever made of the Andromeda Galaxy (aka M31) at ultraviolet wavelengths. Recorded by NASA's Swift satellite, the mosaic is composed of 330 individual images covering a region 200,000 light-years wide.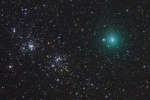 Comet Hartley Passes a Double Star Cluster
26.10.2010
Most star clusters are singularly impressive. Open clusters NGC 869 and NGC 884, however, are doubly impressive. Also known as "h and chi Persei", this unusual double cluster, shown above, is bright enough to be seen from a dark location without even binoculars.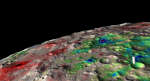 Water Ice Detected Beneath Moons Surface
25.10.2010
Is there enough water on the moon to sustain future astronauts? The question has important implications if humanity hopes to use the Moon as a future outpost. Last year, to help find out, scientists crashed the moon-orbiting LCROSS spacecraft into a permanently shadowed crater near the Moon's South Pole.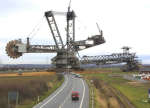 A Bucket Wheel Excavator on Earth
24.10.2010
Please wait while one of the largest mobile machines in the world crosses the road. The machine pictured above is a bucket-wheel excavator used in modern surface mining. Machines like this have given humanity the ability to mine minerals and change the face of planet Earth in new and dramatic ways.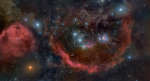 Orion: Head to Toe
23.10.2010
Cradled in cosmic dust and glowing hydrogen, stellar nurseries in Orion the Hunter lie at the edge of a giant molecular cloud some 1,500 light-years away. Spanning nearly 25 degrees, this breath-taking vista stretches across the well-known constellation from head to toe (left to right).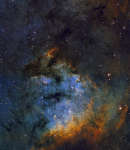 NGC 7822 in Cepheus
22.10.2010
Pillars of gas, dust, and young, hot stars seem to fill the gaping maw of NGC 7822. At the edge of a giant molecular cloud toward the northern constellation Cepheus, the glowing star forming region lies about 3,000 light-years away. Within the nebula, bright edges and dark shapes are highlighted in this colorful skyscape.