Astronomy Picture Of the Day (APOD)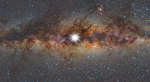 Solstice Sun and Milky Way
21.12.2017
Welcome to December's solstice, first day of winter in the north and summer for the southern hemisphere. Astronomical markers of the seasons, solstice and equinox dates are based on the Sun's place in its annual journey along the ecliptic, through planet Earth's sky.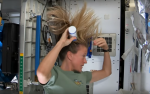 How to Wash Your Hair in Space
20.12.2017
How can you wash your hair in space -- without gravity? Long a bother for space-faring astronauts, Karen Nyberg, a flight engineer on the International Space Station (ISS) in 2013, gave a tutorial. Key components are a squirt package of water, no-rinse shampoo, and vigorous use of a towel and comb.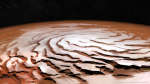 The Spiral North Pole of Mars
19.12.2017
Why is there a spiral around the North Pole of Mars? Each winter this pole develops a new outer layer about one meter thick composed of carbon dioxide frozen out of the thin Martian atmosphere. This fresh layer is deposited on a water-ice layer that exists year round.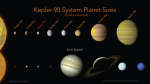 The Kepler 90 Planetary System
18.12.2017
Do other stars have planetary systems like our own? Yes -- one such system is Kepler-90. Cataloged by the orbiting Kepler satellite, an eighth planet has now been discovered giving Kepler-90 the same number of known planets as our Solar System.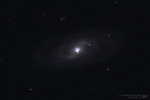 The Einstein Cross Gravitational Lens
17.12.2017
Most galaxies have a single nucleus -- does this galaxy have four? The strange answer leads astronomers to conclude that the nucleus of the surrounding galaxy is not even visible in this image. The central cloverleaf is rather light emitted from a background quasar.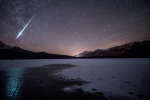 A Wintry Shower
16.12.2017
Four Geminids flash through northern skies in this wintry night skyscape. The bright fireball and 3 fainter meteors were captured in a single 10 second exposure, near the peak of December's Geminid meteor shower.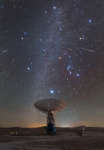 Geminids of the North
15.12.2017
Earth's annual Geminid meteor shower did not disappoint as our fair planet plowed through dust from active asteroid 3200 Phaethon. Captured in this northern hemisphere nightscape, the meteors stream away from the shower's radiant in Gemini.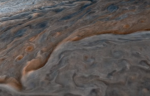 Jupiter Diving
14.12.2017
Take this simulated plunge and dive into the upper atmosphere of Jupiter, the Solar System's ruling gas giant. The awesome animation is based on image data from JunoCam, and the microwave radiometer on board the Jupiter-orbiting Juno spacecraft.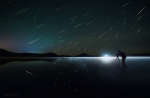 Meteors over Inner Mongolia
13.12.2017
Did you ever get caught in a meteor shower? If yes, then every minute or so the sky sparked with fleeting flashes of light. This was the fate of the pictured astrophotographer during last year's Perseids meteor shower.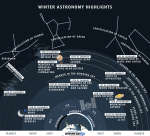 Highlights of the Winter Sky
12.12.2017
What's up in the sky this winter? The featured graphic gives a few highlights for Earth's northern hemisphere. Viewed as a clock face centered at the bottom, early winter sky events fan out toward the left, while late winter events are projected toward the right.