Astronomy Picture Of the Day (APOD)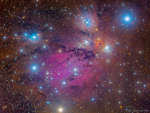 NGC 2170: Angel Nebula Still Life
26.08.2019
Is this a painting or a photograph? In this classic celestial still life composed with a cosmic brush, dusty nebula NGC 2170, also known as the Angel Nebula, shines near the image center. Reflecting...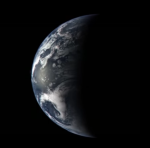 Leaving Earth
25.08.2019
What it would look like to leave planet Earth? Such an event was recorded visually in great detail by the MESSENGER spacecraft as it swung back past the Earth, eight years ago, on its way in toward the planet Mercury. Earth can be seen rotating in this time-lapse video, as it recedes into the distance.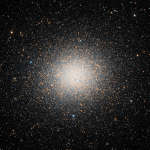 Millions of Stars in Omega Centauri
24.08.2019
Globular star cluster Omega Centauri, also known as NGC 5139, is some 15,000 light-years away. The cluster is packed with about 10 million stars much older than the Sun within a volume about 150 light-years in diameter.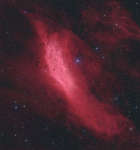 NGC 1499: The California Nebula
23.08.2019
Drifting through the Orion Arm of the spiral Milky Way Galaxy, this cosmic cloud by chance echoes the outline of California on the west coast of the United States. Our own Sun also lies within the Milky Way's Orion Arm, only about 1,500 light-years from the California Nebula.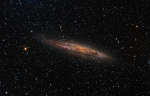 Nearby Spiral Galaxy NGC 4945
22.08.2019
Large spiral galaxy NGC 4945 is seen edge-on near the center of this cosmic galaxy portrait. In fact, it's almost the size of our Milky Way Galaxy. NGC 4945's own dusty disk, young blue star clusters, and pink star forming regions standout in the sharp, colorful telescopic image.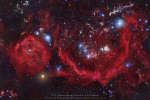 The Orion You Can Almost See
21.08.2019
Do you recognize this constellation? Although it is one of the most recognizable star groupings on the sky, this is a more full Orion than you can see -- an Orion only revealed with long exposure digital camera imaging and post-processing.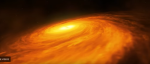 Animation: Spiral Disk around a Black Hole
20.08.2019
What would it look like to orbit a black hole? Many black holes are surrounded by swirling pools of gas known as accretion disks. These disks can be extremely hot, and much of the orbiting gas will eventually fall through the black hole's event horizon -- where it will never been seen again.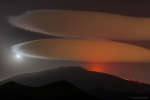 Lenticular Clouds over Mount Etna
19.08.2019
What's happening above that volcano? Although Mount Etna is seen erupting, the clouds are not related to the eruption. They are lenticular clouds formed when moist air is forced upwards near a mountain or volcano.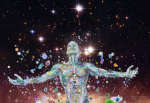 Human as Spaceship
18.08.2019
You are a spaceship soaring through the universe. So is your dog. We all carry with us trillions of microorganisms as we go through life. These multitudes of bacteria, fungi, and archaea have different DNA than you. Collectively called your microbiome, your shipmates outnumber your own cells.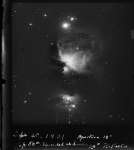 1901 Photograph: The Orion Nebula
17.08.2019
By the turn of the 20th century advances in photography contributed an important tool for astronomers. Improving photographic materials, long exposures, and new telescope designs produced astronomical images with details not visible at the telescopic eyepiece alone.