Astronomy Picture Of the Day (APOD)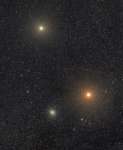 M22 and the Wanderers
12.04.2018
Wandering through the constellation Sagittarius, bright planets Mars and Saturn appeared together in early morning skies over the last weeks. They are captured in this 3 degree wide field-of-view from March 31 in a close celestial triangle with large globular star cluster Messier 22.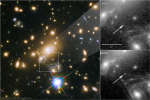 Fortuitous Flash Candidate for the Farthest Star Yet Seen
11.04.2018
Was this flash the farthest star yet seen? An unexpected flash of light noticed fortuitously on Hubble Space Telescope images may prove to be not only an unusual gravitational lensing event but also an image of a normal star 100 times farther away than any star previously imaged individually.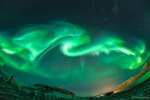 Dragon Aurora over Norway
10.04.2018
What's that in the sky? An aurora. A large coronal hole opened last month, a few days before this image was taken, throwing a cloud of fast moving electrons, protons, and ions toward the Earth.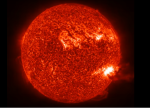 The Sun Unleashed: Monster Filament in Ultraviolet
9.04.2018
One of the most spectacular solar sights is an explosive flare. In 2011 June, the Sun unleashed somewhat impressive, medium-sized solar flare as rotation carried active regions of sunpots toward the solar limb. That...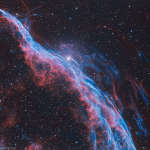 NGC 6960: The Witchs Broom Nebula
8.04.2018
Ten thousand years ago, before the dawn of recorded human history, a new light would have suddenly have appeared in the night sky and faded after a few weeks. Today we know this light was from a supernova, or exploding star, and record the expanding debris cloud as the Veil Nebula, a supernova remnant.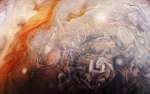 Painting with Jupiter
7.04.2018
Brush strokes of Jupiter's signature atmospheric bands and vortices form this planetary post-impressionist work of art. The creative image uses actual data from the Juno spacecraft's JunoCam. To paint on the digital canvas, a image with light and dark tones was chosen for processing and an oil-painting software filter applied.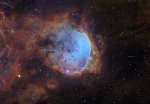 NGC 3324 in Carina
6.04.2018
This bright cosmic cloud was sculpted by stellar winds and radiation from the hot young stars of open cluster NGC 3324. With dust clouds in silhouette against its glowing atomic gas, the pocket-shaped star-forming region actually spans about 35 light-years. It lies some 7,500 light-years away toward the nebula rich southern constellation Carina.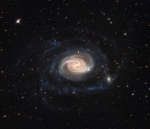 NGC 289: Swirl in the Southern Sky
5.04.2018
About 70 million light-years distant, gorgeous spiral galaxy NGC 289 is larger than our own Milky Way. Seen nearly face-on, its bright core and colorful central disk give way to remarkably faint, bluish spiral arms. The extensive arms sweep well over 100 thousand light-years from the galaxy's center.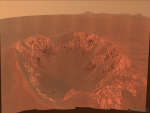 Intrepid Crater on Mars from Opportunity
4.04.2018
The robotic rover Opportunity sometimes passes small craters on Mars. Pictured here in 2010 is Intrepid Crater, a 20-meter across impact basin slightly larger than Nereus Crater that Opportunity had chanced across previously. The featured image is in approximately true color but horizontally compressed to accommodate a wide angle panorama.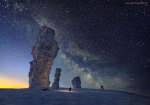 The Milky Way over the Seven Strong Men Rock Formations
3.04.2018
You may have heard of the Seven Sisters in the sky, but have you heard about the Seven Strong Men on the ground? Located just west of the Ural Mountains, the unusual Manpupuner rock formations are one of the Seven Wonders of Russia. How these ancient 40-meter high pillars formed is yet unknown.