Astronomy Picture Of the Day (APOD)
Eclipse In The Shade
13.08.1999
Near the shadow of the moon under a shady tree, dozens of images of a 1994 solar eclipse in progress are visible in this striking picture from the campus of Northwestern University in Evanston, Illinois. What creates the multiple images?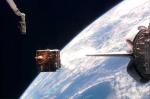 Deploying Spartan
12.08.1999
Last October the Space Shuttle Discovery deployed Spartan 201, a spacecraft that monitored the corona of the Sun. Instruments on Spartan 201 were used to estimate the density of electrons emitted into the solar...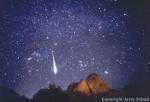 A Meteor Over the Anza Borrego Desert
11.08.1999
Meteors will be flashing across your skies over the next two nights. Specifically, the Perseid Meteor Shower should be at its best just before each morning's dawn. Observers at dark locations might see as much as a meteor a minute.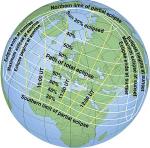 A Total Eclipse for Europe
10.08.1999
The last total solar eclipse of this millennium will be visible for a few minutes tomorrow from a narrow path in Europe and Asia. There, millions of sightseers will witness the Moon move directly between the Earth and Sun, covering up the Sun completely.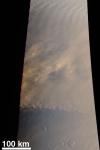 A Martian Dust Storm Approaches
9.08.1999
Batten down the hatches, here comes another Martian dust storm. The thin soil on Mars can be picked up by high winds to create dust storms that sweep down plains and can sometimes envelop most of the planet.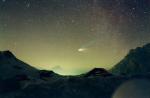 Comet Hale-Bopp Over Val Parola Pass
8.08.1999
Comet Hale-Bopp became much brighter than any surrounding stars. It was seen even over bright city lights. Out away from city lights, however, it put on quite a spectacular show. Here Comet Hale-Bopp was photographed above Val Parola Pass in the Dolomite mountains surrounding Cortina d'Ampezzo, Italy.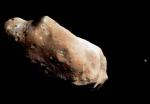 Ida and Dactyl: Asteroid and Moon
7.08.1999
This asteroid has a moon! The robot spacecraft Galileo currently exploring the Jovian system, encountered and photographed two asteroids during its long journey to Jupiter. The second asteroid it photographed, Ida, was discovered to have a moon which appears as a small dot to the right of Ida in this picture.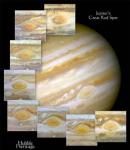 Hubble Tracks Jupiters Great Red Spot
6.08.1999
It is a hurricane twice the size of the Earth. It has been raging at least as long as telescopes could see it, and shows no signs of slowing. It is Jupiter's Great Red Spot, the largest swirling storm system in the Solar System.
Asteroid 9969 Braille
5.08.1999
NASA probe Deep Space 1 zoomed past asteroid 9969 Braille last week as it continued to test its new ion drive in the inner Solar System. The flyby was the closest approach a spacecraft has ever made to an asteroid. Looking back afterwards, DS1 took the above picture.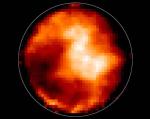 The Surface of Titan
4.08.1999
If sailing the hydrocarbon seas of Titan, beware of gasoline rain. Such might be a travel advisory issued next millennium for adventurers visiting Titan, the largest moon of Saturn. Images of Titan's surface were released last week from the Keck 10-meter telescope featuring the finest details yet resolved.