Astronomy Picture Of the Day (APOD)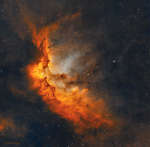 NGC 7380: The Wizard Nebula
13.11.2022
What powers are being wielded in the Wizard Nebula? Gravitation strong enough to form stars, and stellar winds and radiations powerful enough to create and dissolve towers of gas. Located only 8,000 light years away, the Wizard nebula, featured here, surrounds developing open star cluster NGC 7380.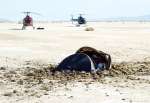 Flying Saucer Crash Lands in Utah Desert
12.11.2022
A flying saucer from outer space crash-landed in the Utah desert after being tracked by radar and chased by helicopters. The year was 2004, and no space aliens were involved. The saucer, pictured here...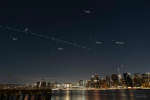 Eclipse in the City
11.11.2022
A darker Moon sets over Manhattan in this night skyscape. The 16 frame composite was assembled from consecutive exposures recorded during the November 8 total lunar eclipse. In the timelapse sequence stars leave short trails above the urban skyline, while the Moon remains immersed in Earth's shadow.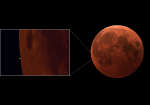 Blood Moon, Ice Giant
10.11.2022
On November 8 the Full Moon turned blood red as it slid through Earth's shadow in a beautiful total lunar eclipse. During totality it also passed in front of, or occulted, outer planet Uranus for eclipse viewers located in parts of northern America and Asia.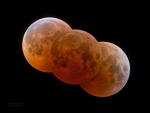 Total Lunar Eclipse
9.11.2022
The beginning, middle, and end of a journey through planet Earth's colorful umbral shadow is captured in this timelapse composite image of a total lunar eclipse. Taken on November 8 from Kitt Peak...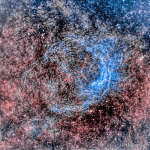 The Asymmetric Nebula Surrounding Wolf Rayet Star 18
8.11.2022
Why does the nebula around the star WR-18 shine brighter on one side? Also known as NGC 3199, this active star and its surrounding nebula lie about 12,000 light-years away toward the nautical southern constellation of Carina.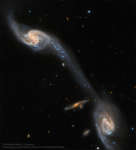 Galaxies: Wilds Triplet from Hubble
7.11.2022
How many galaxies are interacting here? This grouping of galaxies is called the Wild Triplet, not only for the discoverer, but for the number of bright galaxies that appear. It had been assumed that...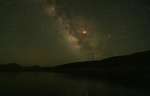 A Total Lunar Eclipse Over Tajikistan
6.11.2022
If the full Moon suddenly faded, what would you see? The answer was recorded in a dramatic time lapse video taken during the total lunar eclipse in 2011 from Tajikistan. During a total lunar eclipse, the Earth moves between the Moon and the Sun, causing the moon to fade dramatically.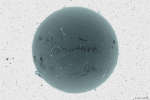 Dark Ball in Inverted Starfield
5.11.2022
Does this strange dark ball look somehow familiar? If so, that might be because it is our Sun. In the featured image from 2012, a detailed solar view was captured originally in a very specific color of red light, then rendered in black and white, and then color inverted.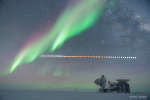 Lunar Eclipse at the South Pole
4.11.2022
Last May 16 the Moon slid through Earth's shadow, completely immersed in the planet's dark umbra for about 1 hour and 25 minutes during a total lunar eclipse. In this composited timelapse...
<
February 2023

| | | | | | | |
| --- | --- | --- | --- | --- | --- | --- |
| Mo | Tu | We | Th | Fr | Sa | Su |
| | | 1 | 2 | 3 | 4 | 5 |
| 6 | 7 | 8 | 9 | 10 | 11 | 12 |
| 13 | 14 | 15 | 16 | 17 | 18 | 19 |
| 20 | 21 | 22 | 23 | 24 | 25 | 26 |
| 27 | 28 | | | | | |

January
February