Astronomy Picture Of the Day (APOD)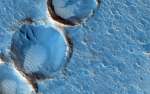 Ares 3 Landing Site: The Martian Revisited
22.06.2019
This close-up from the Mars Reconnaissance Orbiter's HiRISE camera shows weathered craters and windblown deposits in southern Acidalia Planitia. A striking shade of blue in standard HiRISE image colors, to the human eye the area would probably look grey or a little reddish.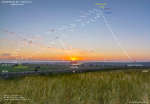 Sunset Analemma
21.06.2019
Today, the solstice is at 15:54 Universal Time, the Sun reaching the northernmost declination in its yearly journey through planet Earth's sky. A June solstice marks the astronomical beginning of summer in the northern hemisphere and winter in the south.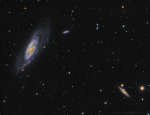 A View Toward M106
20.06.2019
Big, bright, beautiful spiral, Messier 106 dominates this cosmic vista. The nearly two degree wide telescopic field of view looks toward the well-trained constellation Canes Venatici, near the handle of the Big Dipper. Also...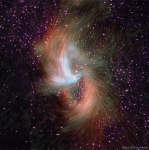 Our Galaxys Magnetic Center
19.06.2019
What's the magnetic field like in the center of our Milky Way Galaxy? To help find out, NASA's SOFIA -- an observatory flying in a modified 747 -- imaged the central region with...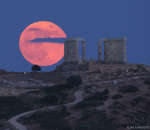 Strawberry Moon over the Temple of Poseidon
18.06.2019
Did you see the full moon last night? If not, tonight's nearly full moon should be almost as good. Because full moons are opposite the Sun, they are visible in the sky when the Sun is not -- which should be nearly all night long tonight, clouds permitting.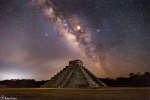 Milky Way over Pyramid of the Feathered Serpent
17.06.2019
To see the feathered serpent descend the Mayan pyramid requires exquisite timing. You must visit El Castillo -- in Mexico's YucatАn Peninsula -- near an equinox. Then, during the late afternoon if the sky is clear, the pyramid's own shadows create triangles that merge into the famous illusion of the slithering viper.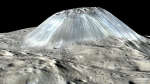 Unusual Mountain Ahuna Mons on Asteroid Ceres
16.06.2019
What created this unusual mountain? There is a new theory. Ahuna Mons is the largest mountain on the largest known asteroid in our Solar System, Ceres, which orbits our Sun in the main asteroid belt between Mars and Jupiter. Ahuna Mons, though, is like nothing that humanity has ever seen before.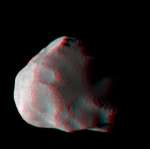 Stereo Helene
15.06.2019
Get out your red/blue glasses and float next to Helene, small, icy moon of Saturn. Appropriately named, Helene is one of four known Trojan moons, so called because it orbits at a Lagrange point. A Lagrange point is a gravitationally stable position near two massive bodies, in this case Saturn and larger moon Dione.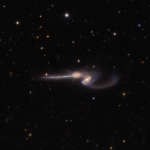 NGC 4676: The Mighty Mice
14.06.2019
These two mighty galaxies are pulling each other apart. Known as The Mice because they have such long tails, each large spiral galaxy has actually passed through the other. Their long tails are drawn out by strong gravitational tides rather than collisions of their individual stars.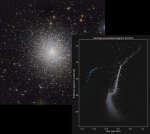 The Colors and Magnitudes of M13
13.06.2019
M13 is modestly recognized as the Great Globular Star Cluster in Hercules. A ball of stars numbering in the hundreds of thousands crowded into a region 150 light years across, it lies some 25,000 light-years away. The sharp, color picture of M13 at upper left is familiar to many telescopic imagers.