Astronomy Picture Of the Day (APOD)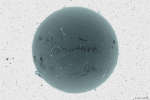 Dark Ball in Inverted Starfield
6.11.2022
Does this strange dark ball look somehow familiar? If so, that might be because it is our Sun. In the featured image from 2012, a detailed solar view was captured originally in a very specific color of red light, then rendered in black and white, and then color inverted.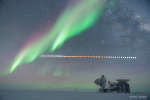 Lunar Eclipse at the South Pole
5.11.2022
Last May 16 the Moon slid through Earth's shadow, completely immersed in the planet's dark umbra for about 1 hour and 25 minutes during a total lunar eclipse. In this composited timelapse...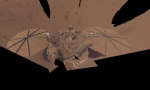 InSight's Final Selfie
4.11.2022
The Mars InSight lander returned its first image from the Red Planet's flat, equatorial Elysium Planitia after a successful touchdown on November 26, 2018. The history making mission to explore the martian Interior using Seismic investigations, geodesy, and heat transport has been operating for over 1,400 martian days or sols.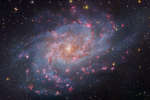 M33: The Triangulum Galaxy
3.11.2022
The small, northern constellation Triangulum harbors this magnificent face-on spiral galaxy, M33. Its popular names include the Pinwheel Galaxy or just the Triangulum Galaxy. M33 is over 50,000 light-years in diameter, third largest in the Local Group of galaxies after the Andromeda Galaxy (M31), and our own Milky Way.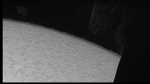 A Partial Eclipse of an Active Sun
2.11.2022
Watch for three things in this unusual eclipse video. First, watch for a big dark circle to approach from the right to block out more and more of the Sun. This dark circle is the Moon, and the video was made primarily to capture this partial solar eclipse last week.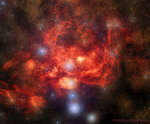 NGC 6357: The Lobster Nebula
1.11.2022
Why is the Lobster Nebula forming some of the most massive stars known? No one is yet sure. Cataloged as NGC 6357, the Lobster Nebula houses the open star cluster Pismis 24 near its center -- a home to unusually bright and massive stars.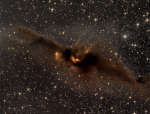 LDN 43: The Cosmic Bat Nebula
31.10.2022
What is the most spook-tacular nebula in the galaxy? One contender is LDN 43, which bears an astonishing resemblance to a vast cosmic bat flying amongst the stars on a dark Halloween night. Located...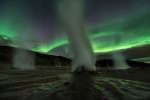 Night on a Spooky Planet
30.10.2022
What spooky planet is this? Planet Earth of course, on a dark and stormy night in 2013 at Hverir, a geothermally active area along the volcanic landscape in northeastern Iceland. Triggered by solar activity, geomagnetic storms produced the auroral display in the starry night sky.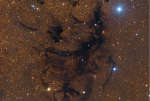 LDN 673: Dark Clouds in Aquila
29.10.2022
Part of a dark expanse that splits the crowded plane of our Milky Way galaxy, the Aquila Rift arcs through planet Earth's skies near bright star Altair. In eerie silhouette against the Milky...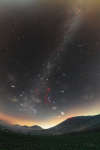 Seven Years of Halley Dust
28.10.2022
History's first known periodic comet Halley (1P/Halley) returns to the inner Solar System every 75 years or so. The famous comet made its last appearance to the naked-eye in 1986. But dusty debris...