Astronomy Picture Of the Day (APOD)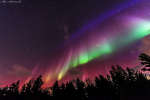 A Flag Shaped Aurora over Sweden
13.03.2021
It appeared, momentarily, like a 50-km tall banded flag. In mid-March of 2015, an energetic Coronal Mass Ejection directed toward a clear magnetic channel to Earth led to one of the more intense geomagnetic storms of recent years. A visual result was wide spread auroras being seen over many countries near Earth's magnetic poles.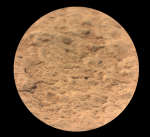 SuperCam Target on Maaz
12.03.2021
What's the sound of one laser zapping? There's no need to consult a Zen master to find out, just listen to the first acoustic recording of laser shots on Mars. On Perseverance...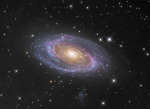 Messier 81
11.03.2021
One of the brightest galaxies in planet Earth's sky is similar in size to our Milky Way Galaxy: big, beautiful Messier 81. Also known as NGC 3031 or Bode's galaxy for its 18th century discoverer, this grand spiral can be found toward the northern constellation of Ursa Major, the Great Bear.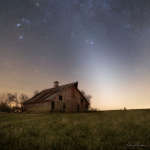 Zodiacal Light and Mars
10.03.2021
Just after sunset on March 7, a faint band of light still reaches above the western horizon in this serene, rural Illinois, night skyscape. Taken from an old farmstead, the luminous glow is zodiacal light, prominent in the west after sunset during planet Earth's northern hemisphere spring.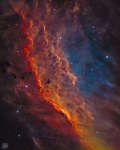 NGC 1499: The California Nebula
9.03.2021
Could Queen Calafia's mythical island exist in space? Perhaps not, but by chance the outline of this molecular space cloud echoes the outline of the state of California, USA. Our Sun has its home within the Milky Way's Orion Arm, only about 1,000 light-years from the California Nebula.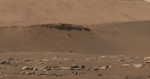 Perseverance 360: Unusual Rocks and the Search for Life on Mars
8.03.2021
Is that a fossil?б Looking through recent images of Mars taken by the new Perseverance rover may seem a bit like treasure hunting, with the possibility of fame coming to the first person...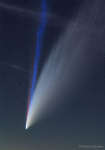 Three Tails of Comet NEOWISE
7.03.2021
What created the unusual red tail in Comet NEOWISE? Sodium. A spectacular sight back in the summer of 2020, Comet NEOWISE, at times, displayed something more than just a surprisingly striated white dust tail and a pleasingly patchy blue ion tail.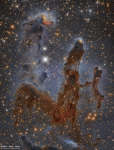 Pillars of the Eagle Nebula in Infrared
6.03.2021
Newborn stars are forming in the Eagle Nebula. Gravitationally contracting in pillars of dense gas and dust, the intense radiation of these newly-formed bright stars is causing surrounding material to boil away. This image...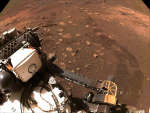 Perseverance Takes a Spin
5.03.2021
After arriving at Jezero Crater on Mars, Perseverance went for a spin on March 4. This sharp image from the car-sized rover's Navcam shows tracks left by its wheels in the martian soil. In preparation for operations on the surface of the Red Planet, its first drive lasted about 33 minutes.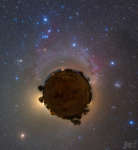 A Little Like Mars
4.03.2021
The surface of this planet looks a little like Mars. It's really planet Earth though. In a digitally stitched little planet projection, the 360 degree mosaic was captured near San Pedro in the Chilean Atacama desert. Telescopes in domes on the horizon are taking advantage of the region's famously dark, clear nights.