Astronomy Picture Of the Day (APOD)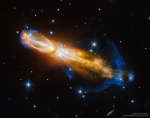 The Calabash Nebula from Hubble
15.02.2017
Fast expanding gas clouds mark the end for a central star in the Calabash Nebula. The once-normal star has run out of nuclear fuel, causing the central regions to contract into a white dwarf. Some of the liberated energy causes the outer envelope of the star to expand.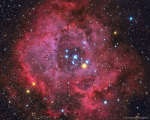 The Rosette Nebula
14.02.2017
Would the Rosette Nebula by any other name look as sweet? The bland New General Catalog designation of NGC 2237 doesn't appear to diminish the appearance of this flowery emission nebula. Inside the nebula lies an open cluster of bright young stars designated NGC 2244.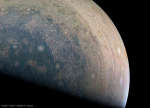 Cloud Swirls around Southern Jupiter from Juno
13.02.2017
Juno just completed its fourth pass near Jupiter. Launched from Earth in 2011 and arriving at Jupiter just last July, robotic Juno concluded its latest elliptical orbit around our Solar System's largest planet 11 days ago.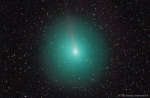 Comet 45P Passes Near the Earth
12.02.2017
A large snowball has just passed the Earth. Known as Comet 45P/HondaMrkosPajduАkovА", or 45P for short, the comet came 10 times closer to Earth yesterday than the Earth ever gets to the Sun. During this passage, the comet was photographed sporting a thin ion tail and a faint but expansive green coma.

Solar System Portrait
11.02.2017
On Valentine's Day in 1990, cruising four billion miles from the Sun, the Voyager 1 spacecraft looked back one last time to make this first ever Solar System family portrait. The complete portrait is a 60 frame mosaic made from a vantage point 32 degrees above the ecliptic plane.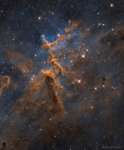 Melotte 15 inthe Heart
10.02.2017
Cosmic clouds form fantastic shapes in the central regions of emission nebula IC 1805. The clouds are sculpted by stellar winds and radiation from massive hot stars in the nebula's newborn star cluster, Melotte 15.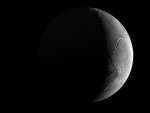 Crescent Enceladus
9.02.2017
Peering from the shadows, the Saturn-facing hemisphere of tantalizing inner moon Enceladus poses in this Cassini spacecraft image. North is up in the dramatic scene captured last November as Cassini's camera was pointed in a nearly sunward direction about 130,000 kilometers from the moon's bright crescent.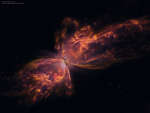 The Butterfly Nebula from Hubble
8.02.2017
The bright clusters and nebulae of planet Earth's night sky are often named for flowers or insects. Though its wingspan covers over 3 light-years, NGC 6302 is no exception. With an estimated surface...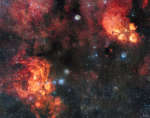 NGC 6357: The Lobster Nebula
7.02.2017
Why is the Lobster Nebula forming some of the most massive stars known? No one is yet sure. Near the more obvious Cat's Paw nebula on the upper right, the Lobster Nebula...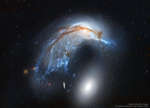 The Porpoise Galaxy from Hubble
6.02.2017
What's happening to this spiral galaxy? Just a few hundred million years ago, NGC 2936, the upper of the two large galaxies shown, was likely a normal spiral galaxy -- spinning, creating stars -- and minding its own business.