Astronomy Picture Of the Day (APOD)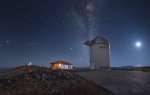 Lyrids in Southern Skies
26.04.2017
Earth's annual Lyrid meteor shower peaked before dawn on April 22nd, as our fair planet plowed through dust from the tail of long-period comet Thatcher. Seen from the high, dark, and dry Atacama desert a waning crescent Moon and brilliant Venus join Lyrid meteor streaks in this composited view.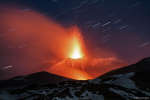 Mt. Etna Lava Plume
25.04.2017
Mt. Etna has been erupting for hundreds of thousands of years. Located in Sicily, Italy, the volcano produces lava fountains over one kilometer high. Mt. Etna is not only one of the most active...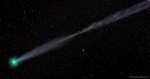 A Split Ion Tail for Comet Lovejoy E4
24.04.2017
What's happened to Comet Lovejoy? In the pictured image, a processed composite, the comet was captured early this month after brightening unexpectedly and sporting a long and intricate ion tail. Remarkably, the typically...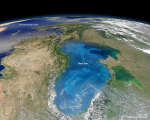 A White Battle in the Black Sea
23.04.2017
Trillions have died in the Earth's seas. Calcified shields of the dead already make up the white cliffs of Dover. The battle between ball-shaped light-colored single-celled plants -- phytoplankton called coccolithophores -- and even smaller, diamond-shaped viruses dubbed coccolithoviruses -- has raged for tens of millions of years.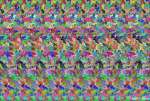 The Holographic Principle
22.04.2017
Is this picture worth a thousand words? According to the Holographic Principle, the most information you can get from this image is about 3 x 10 65 bits for a normal sized computer monitor.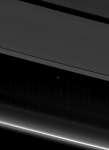 Between the Rings
21.04.2017
On April 12, as the Sun was blocked by the disk of Saturn the Cassini spacecraft camera looked toward the inner Solar System and the gas giant's backlit rings. At the top of the mosaicked view is the A ring with its broader Encke and narrower Keeler gaps visible.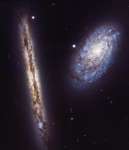 NGC 4302 and NGC 4298
20.04.2017
Seen edge-on, spiral galaxy NGC 4302 (left) lies about 55 million light-years away in the well-groomed constellation Coma Berenices. A member of the large Virgo Galaxy Cluster, it spans some 87,000 light-years, a little smaller than our own Milky Way.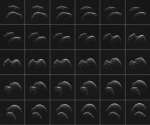 Asteroid 2014 JO25
19.04.2017
A day before its closest approach, asteroid 2014 JO25 was imaged by radar with the 70-meter antenna of NASA's Goldstone Deep Space Communications Complex in California. This grid of 30 radar images, top left to lower right, reveals the two-lobed shape of the asteroid that rotates about once every five hours.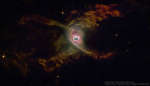 The Red Spider Planetary Nebula
18.04.2017
Oh what a tangled web a planetary nebula can weave. The Red Spider Planetary Nebula shows the complex structure that can result when a normal star ejects its outer gases and becomes a white dwarf star.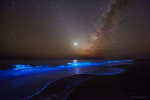 Night Glows
17.04.2017
What glows in the night? This night, several unusual glows were evident -- some near, but some far. The foreground surf glimmers blue with the light of bioluminescent plankton. Next out, Earth's atmosphere dims the horizon and provides a few opaque clouds. Further out, the planet Venus glows bright near the image center.