Astronomy Picture Of the Day (APOD)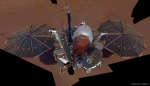 InSight Lander Takes Selfie on Mars
21.01.2019
This is what NASA's Insight lander looks like on Mars. With its solar panels, InSight is about the size of a small bus. Insight successfully landed on Mars in November with a main objective to detect seismic activity.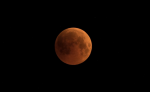 A Total Lunar Eclipse Video
20.01.2019
Tonight a bright full Moon will fade to red. Tonight's moon will be particularly bright because it is reaching its fully lit phase when it is relatively close to the Earth in its elliptical orbit.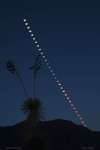 Total Lunar Eclipse at Moonset
19.01.2019
The Moon slid through Earth's shadow on January 31, 2018 in a total lunar eclipse. In this time-lapse sequence of that eclipse from Portal, Arizona, USA, the partial eclipse starts with the Moon high in the western sky.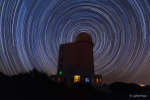 Circumpolar Star Trails
18.01.2019
As Earth spins on its axis, the stars appear to rotate around an observatory in this well-composed image from the Canary Island of Tenerife. Of course, the colorful concentric arcs traced out by the stars are really centered on the planet's North Celestial Pole.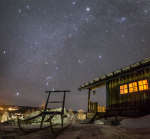 Cabin Under the Stars
17.01.2019
Gocka's, a family nickname for the mountain cabin, and a wooden sled from a generation past stand quietly under the stars. The single exposure image was taken on January 6 from Tanndalen Sweden to evoke a simple visual experience of the dark mountain skies.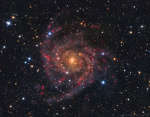 IC 342: The Hidden Galaxy
16.01.2019
Similar in size to large, bright spiral galaxies in our neighborhood, IC 342 is a mere 10 million light-years distant in the long-necked, northern constellation Camelopardalis. A sprawling island universe, IC 342 would otherwise...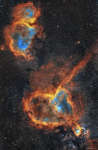 The Heart and Soul Nebulas
15.01.2019
Is the heart and soul of our Galaxy located in Cassiopeia? Possibly not, but that is where two bright emission nebulas nicknamed Heart and Soul can be found. The Heart Nebula, officially dubbed IC 1805 and visible in the featured image on the bottom right, has a shape reminiscent of a classical heart symbol.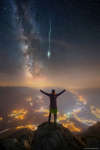 Meteor and Milky Way over the Alps
14.01.2019
Now this was a view with a thrill. From Mount Tschirgant in the Alps, you can see not only nearby towns and distant Tyrolean peaks, but also, weather permitting, stars, nebulas, and the band of the Milky Way Galaxy.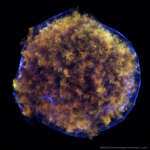 Tychos Supernova Remnant in Xray
13.01.2019
What star created this huge puffball? What's pictured is the hot expanding nebula of Tycho's supernova remnant, the result of a stellar explosion first recorded over 400 years ago by the famous astronomer Tycho Brahe. The featured image is a composite of three X-ray colors taken by the orbiting Chandra X-ray Observatory.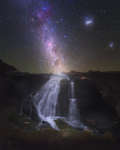 Milky Way Falls
12.01.2019
It can be the driest place on planet Earth, but water still flows in Chile's Atacama desert, high in the mountains. After discovering this small creek with running water, the photographer returned...