Astronomy Picture Of the Day (APOD)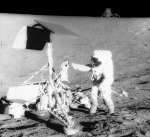 Apollo 12 Visits Surveyor 3
22.10.2018
Apollo 12 was the second mission to land humans on the Moon. The landing site was picked to be near the location of Surveyor 3, a robot spacecraft that had landed on the Moon three years earlier.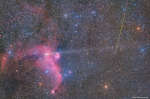 Meteor, Comet, and Seagull (Nebula)
21.10.2018
A meteor, a comet, and a photogenic nebula have all been captured in this single image. The closest and most fleeting is the streaking meteor on the upper right -- it was visible for less than a second.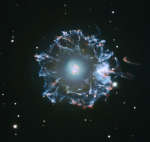 Halo of the Cat s Eye
20.10.2018
Not a Falcon 9 rocket launch after sunset, the Cat's Eye Nebula (NGC 6543) is one of the best known planetary nebulae in the sky. Its haunting symmetries are seen in the very...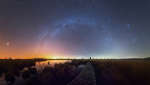 Summer to Winter Milky Way
19.10.2018
Taken near local midnight, this autumn night's panorama follows the arch of the Milky Way across the northern horizon from the High Fens, Eifel Nature Park at the border of Belgium and Germany.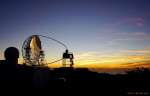 Cherenkov Telescope at Sunset
18.10.2018
On October 10, a new telescope reflected the light of the setting Sun. With dark horizon above and sunset colors below, its segmented mirror inverts an image of the beautiful evening sky in this snapshot from the Roque del Los Muchachos Observatory on the Canary Island of La Palma.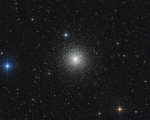 M15: Dense Globular Star Cluster
17.10.2018
Messier 15 is an immense swarm of over 100,000 stars. A 13 billion year old relic of the early formative years of our galaxy it's one of about 170 globular star clusters that still roam the halo of the Milky Way.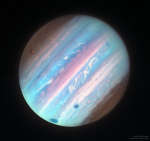 Jupiter in Ultraviolet from Hubble
16.10.2018
Jupiter looks a bit different in ultraviolet light. To better interpret Jupiter's cloud motions and to help NASA's robotic Juno spacecraft understand the planetary context of the small fields that it sees, the Hubble Space Telescope is being directed to regularly image the entire Jovian giant.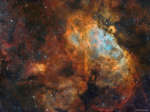 M16: In and Around the Eagle Nebula
15.10.2018
From afar, the whole thing looks like an Eagle. A closer look at the Eagle Nebula, however, shows the bright region is actually a window into the center of a larger dark shell of dust. Through this window, a brightly-lit workshop appears where a whole open cluster of stars is being formed.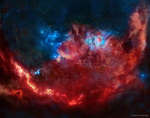 Orion in Red and Blue
14.10.2018
When did Orion become so flashy? This colorful rendition of part of the constellation of Orion comes from red light emitted by hydrogen and sulfur (SII), and blue-green light emitted by oxygen (OIII). Hues...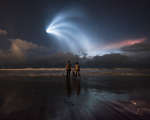 Skygazers on the Beach
13.10.2018
Kona, a young boxer, is a dog who loves splashing in the waves along Solana Beach near San Diego, planet Earth. But he paused here, at least briefly, during an early evening romp on October 7.