Astronomy Picture Of the Day (APOD)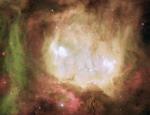 Halloween and the Ghost Head Nebula
31.10.2004
Halloween's origin is ancient and astronomical. Since the fifth century BC, Halloween has been celebrated as a cross-quarter day, a day halfway between an equinox (equal day / equal night) and a solstice (minimum day / maximum night in the northern hemisphere). With our modern calendar, however, the real cross-quarter day will occur next week.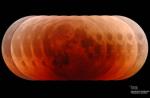 Pumpkin Moon
30.10.2004
Does this look familiar? Red and orange hues haunting the face of the Moon might remind you of the October 27th total lunar eclipse, but the picture is actually a montage of images from a similar lunar spectacle in May of 2003.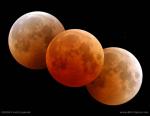 Red Moon Triple
29.10.2004
Some thought of baseball and some thought of Halloween during October 27th's widely viewed total lunar eclipse. Sliding through Earth's shadow, the Moon turned haunting shades of red and orange during the eclipse's total phase.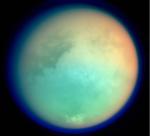 Tantalizing Titan
28.10.2004
Normally hidden by a thick, hazy atmosphere, tantalizing features on Titan's surface appear in this false-color view. The image was recorded as the Cassini spacecraft approached its first close flyby of Saturn's smog-shrouded moon on October 26.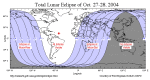 Total Lunar Eclipse Tonight
27.10.2004
Go outside tonight and see the total lunar eclipse. Tonight's eclipse is easy and convenient for much of the world to see. Anyone who can spot a full Moon -- even during the day -- can see it fade out as the Earth's shadow engulfs it.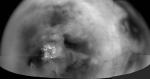 Titan Through the Haze
26.10.2004
What are these surface features on Titan? This planet-sized moon of Saturn had much of its south polar surface imaged during an initial flyby by the Saturn-orbiting Cassini spacecraft back in early July.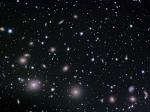 The Perseus Cluster of Galaxies
25.10.2004
Here is one of the largest objects that anyone will ever see on the sky. Each of the fuzzy blobs in the above picture is a galaxy, together making up the Perseus Cluster, one of the closest clusters of galaxies.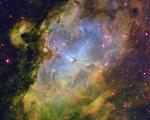 Inside the Eagle Nebula
24.10.2004
From afar, the whole thing looks like an Eagle. A closer look at the Eagle Nebula, however, shows the bright region is actually a window into the center of a larger dark shell of dust. Through this window, a brightly-lit workshop appears where a whole open cluster of stars is being formed.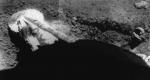 Surveyor Slides
23.10.2004
"Safe!" In September 1967, during regular season play, the Surveyor 5 lander actually slid several feet while making a successful soft landing on the Moon's Mare Tranquillitatis. Equipped with television cameras and soil...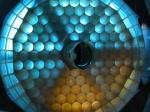 SOFIA s Mirror
22.10.2004
The candy-dish appearance of this high-tech astronomical mirror is striking. Made of a special glass ceramic material called Zerodur, it actually measures 2.7 meters across. The transparent surface has not yet received a reflective...