Astronomy Picture Of the Day (APOD)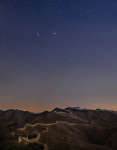 Comet Lovejoy over The Great Wall
20.02.2014
Fading now as it returns to the outer solar system Comet Lovejoy (C/2013 R1) still graces planet Earth's sky, a delicate apparition in binoculars or small telescopes. The comet, a relic...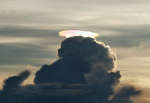 A Rainbow Pileus Cloud over Zimbabwe
19.02.2014
Yes, but how many dark clouds have a multicolored lining? Pictured, behind this darker cloud, is a pileus iridescent cloud, a group of water droplets that have a uniformly similar size and so together diffract different colors of sunlight by different amounts.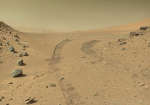 Crossing Dingo Gap on Mars
18.02.2014
An important threshold on Mars has now been crossed. Landing in mid-2012, the Curiosity rover is searching for clues of whether life could ever have existed on the red planet. Recent findings of Curiosity include evidence for an ancient (but now dried) freshwater lake, and the non-detection of the biomarker methane in the Martian atmosphere.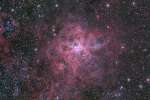 The Cosmic Web of the Tarantula Nebula
17.02.2014
It is the largest and most complex star forming region in the entire galactic neighborhood. Located in the Large Magellanic Cloud, a small satellite galaxy orbiting our Milky Way galaxy, the region's spidery appearance is responsible for its popular name, the Tarantula nebula. This tarantula, however, is about 1,000 light-years across.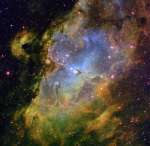 Inside the Eagle Nebula
16.02.2014
From afar, the whole thing looks like an Eagle. A closer look at the Eagle Nebula, however, shows the bright region is actually a window into the center of a larger dark shell of dust. Through this window, a brightly-lit workshop appears where a whole open cluster of stars is being formed.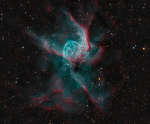 NGC 2359: Thor s Helmet
15.02.2014
This helmet-shaped cosmic cloud with wing-like appendages is popularly called Thor's Helmet. Heroically sized even for a Norse god, Thor's Helmet is about 30 light-years across. In fact, the helmet is more...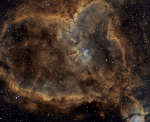 IC 1805: Light from the Heart
14.02.2014
Sprawling across almost 200 light-years, emission nebula IC 1805 is a mix of glowing interstellar gas and dark dust clouds about 7,500 light-years away in the Perseus spiral arm of our galaxy. Stars were born in this region whose nickname, the Heart Nebula, derives from its Valentine's-Day-appropriate shape.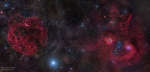 Downtown Auriga
13.02.2014
Rich in star clusters and nebulae, the ancient constellation of Auriga, the Charioteer, rides high in northern winter night skies. Spanning nearly 24 full moons (12 degrees) on the sky, this deep telescopic mosaic view recorded in January shows off some of Auriga's most popular sights for cosmic tourists.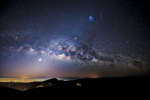 Rocket, Meteor, and Milky Way over Thailand
12.02.2014
Can the night sky appear both serene and surreal? Perhaps classifiable as serene in the above panoramic image taken last Friday are the faint lights of small towns glowing across a dark foreground landscape of Doi Inthanon National Park in Thailand, as well as the numerous stars glowing across a dark background starscape.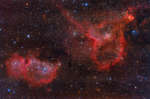 The Heart and Soul Nebulas
11.02.2014
Is the heart and soul of our Galaxy located in Cassiopeia? Possibly not, but that is where two bright emission nebulas nicknamed Heart and Soul can be found. The Heart Nebula, officially dubbed IC 1805 and visible in the above zoomable view on the right, has a shape reminiscent of a classical heart symbol.