Astronomy Picture Of the Day (APOD)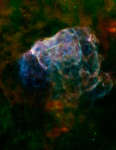 Supernova Remnant Puppis A
12.09.2014
Driven by the explosion of a massive star, supernova remnant Puppis A is blasting into the surrounding interstellar medium about 7,000 light-years away. At that distance, this remarkable false-color exploration of its complex expansion is about 180 light-years wide.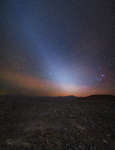 Zodiacal Light before Dawn
11.09.2014
You might not guess it, but sunrise was still hours away when this nightscape was taken, a view along the eastern horizon from a remote location in Chile's Atacama desert. Stretching high into...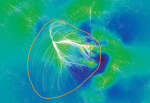 Laniakea: Our Home Supercluster of Galaxies
10.09.2014
It is not only one of the largest structures known -- it is our home. The just-identified Laniakea Supercluster of galaxies contains thousands of galaxies that includes our Milky Way Galaxy, the Local Group of galaxies, and the entire nearby Virgo Cluster of Galaxies.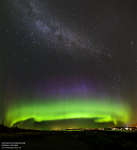 An Aurora Cupcake with a Milky Way Topping
9.09.2014
This sky looked delicious. Double auroral ovals were captured above the town lights of жstersund, Sweden, last week. Pictured above, the green ovals occurred lower to the ground than violet aurora rays above, making the whole display look a bit like a cupcake.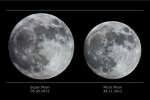 Super Moon vs Micro Moon
8.09.2014
What is so super about tomorrow's supermoon? Tomorrow, a full moon will occur that appears slightly larger and brighter than usual. The reason is that the Moon's fully illuminated phase occurs within a short time from perigee - when the Moon is its closest to the Earth in its elliptical orbit.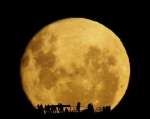 Full Moon Silhouettes
7.09.2014
Have you ever watched the Moon rise? The slow rise of a nearly full moon over a clear horizon can be an impressive sight. One impressive moonrise was imaged in early 2013 over Mount Victoria Lookout in Wellington, New Zealand.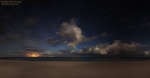 Moonbow Beach
6.09.2014
Like a rainbow at night, a beautiful moonbow shines above the western horizon in this deserted beach scene from Molokai Island, Hawaii, USA, planet Earth. Captured last June 17 in early morning hours, the lights along the horizon are from Honolulu and cities on the island of Oahu some 30 miles away.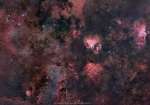 A Sagittarius Starscape
5.09.2014
This rich starscape spans nearly 7 degrees on the sky, toward the Sagittarius spiral arm and the center of our Milky Way galaxy. A telescopic mosaic, it features well-known bright nebulae and star clusters cataloged by 18th century cosmic tourist Charles Messier.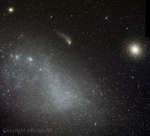 Cloud, Clusters and Comet Siding Spring
4.09.2014
On October 19th, a good place to watch Comet Siding Spring will be from Mars. Then, this inbound visitor (C/2013 A1) to the inner solar system, discovered in January 2013 by Robert McNaught at Australia's Siding Spring Observatory, will pass within 132,000 kilometers of the Red Planet.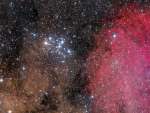 M6: The Butterfly Cluster
3.09.2014
To some, the outline of the open cluster of stars M6 resembles a butterfly. M6, also known as NGC 6405, spans about 20 light-years and lies about 2,000 light years distant. M6, pictured...