Astronomy Picture Of the Day (APOD)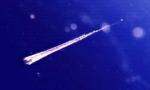 Catching Falling Stardust
21.11.1998
This carrot shaped track is actually little more than 5 hundredths of an inch long. It is the trail of a meteroid through the high-tech substance aerogel exposed to space by the shuttle launched EURECA (European Recoverable Carrier) spacecraft.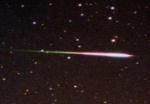 Green Fireball
20.11.1998
"Goodness, Gracious, Green Balls Of Fire!", might have been an appropriate theme song title for the 1998 Leonid meteor shower. Many observers, like astrophotographer Steve Dunn watching from Cape Canaveral, Florida, USA, reported that a lot of the characteristically bright Leonid meteors had a greenish tint.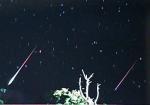 Bright Leonids
19.11.1998
Rich in bright and awesome fireballs, the Leonid Meteor Shower came early this year. In fact, judging from meteor watcher reports the peak came nearly 15 hours earlier than the best predictions. Observers...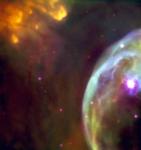 Close Up of the Bubble Nebula
18.11.1998
It's the bubble versus the cloud. NGC 7635, the Bubble Nebula, is being pushed out by the stellar wind of massive central star BD+602522. Next door, though, lives a giant molecular cloud, visible above to the upper left.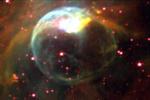 NGC 7635: The Bubble Nebula
17.11.1998
What created this huge space bubble? A massive star that is not only bright and blue, but also emitting a fast stellar wind of ionized gas. The Bubble Nebula is actually the smallest...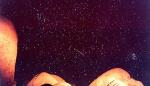 Leonids 1998: A Safe Meteor Storm
16.11.1998
You're in no danger. During the meteor storm occurring tonight and tomorrow, thousands of bits of ice and rock will likely rain onto the Earth. Few, if any, will hit the ground. Touted as potentially the most active meteor shower since 1966, the Leonids of 1998 will be tracked by observers the world over.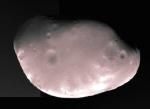 Deimos: A Small Martian Moon
15.11.1998
Mars has two tiny moons, Phobos and Deimos. Pictured above is Deimos, the smaller moon of Mars. In fact, Deimos is one of the smallest known moons in the Solar System measuring only 9 miles across.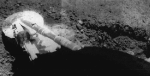 Surveyor Slides
14.11.1998
"Safe!" In September 1967 (during regular season play), the Surveyor 5 lander actually slid several feet while making a successful soft landing on the Moon's Mare Tranquillitatis. Equipped with television cameras and soil...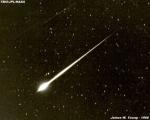 A Leonid Fireball From 1966
13.11.1998
This bright fireball meteor was photographed from Table Mountain Observatory during the peak of the annual Leonid meteor shower on November 17, 1966. That was a good year for Leonid meteor watchers - a meteor "storm" was produced as the Earth swept through a dense swarm of dusty debris from the tail of comet Tempel-Tuttle.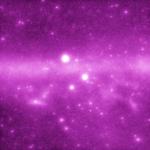 GLAST Gamma Ray Sky Simulation
12.11.1998
This simulated image models the intensities of gamma rays with over 40 million times the energy of visible light, and represents how the sky might appear to the proposed Gamma-ray Large Area Space Telescope (GLAST) after its first year in orbit.