Astronomy Picture Of the Day (APOD)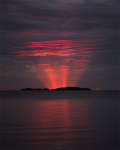 Red Crepuscular Rays from an Eclipse
29.05.2022
What's happening behind that island? Things both expected and unexpected. Expected, perhaps, the pictured rays of light -- called crepuscular rays -- originate from the Sun. Unexpected, though, the Sun was being partially eclipsed by the Moon at the time -- late last month.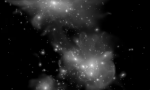 Simulation TNG50: A Galaxy Cluster Forms
28.05.2022
How do clusters of galaxies form? Since our universe moves too slowly to watch, faster-moving computer simulations are created to help find out. A recent effort is TNG50 from IllustrisTNG, an upgrade of the famous Illustris Simulation.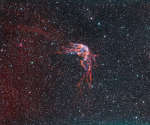 RCW 86: Historical Supernova Remnant
27.05.2022
In 185 AD, Chinese astronomers recorded the appearance of a new star in the Nanmen asterism. That part of the sky is identified with Alpha and Beta Centauri on modern star charts. The new star was visible for months and is thought to be the earliest recorded supernova.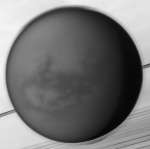 Titan: Moon over Saturn
26.05.2022
Like Earth's moon, Saturn's largest moon Titan is locked in synchronous rotation. This mosaic of images recorded by the Cassini spacecraft in May of 2012 shows its anti-Saturn side, the side always facing away from the ringed gas giant.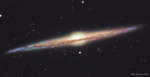 NGC 4565: Galaxy on Edge
25.05.2022
Magnificent spiral galaxy NGC 4565 is viewed edge-on from planet Earth. Also known as the Needle Galaxy for its narrow profile, bright NGC 4565 is a stop on many telescopic tours of the northern sky, in the faint but well-groomed constellation Coma Berenices.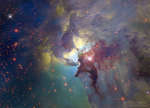 The Lively Center of the Lagoon Nebula
24.05.2022
The center of the Lagoon Nebula is a whirlwind of spectacular star formation. Visible near the image center, at least two long funnel-shaped clouds, each roughly half a light-year long, have been formed by extreme stellar winds and intense energetic starlight. A tremendously bright nearby star, Herschel 36, lights the area.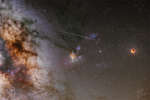 A Deep Sky Behind an Eclipsed Moon
23.05.2022
The plan was to capture a picturesque part of the sky that was hosting an unusual guest. The result included a bonus Б an additional and unexpected guest. The beautiful background features part...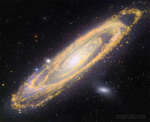 The Once and Future Stars of Andromeda
22.05.2022
This picture of Andromeda shows not only where stars are now, but where stars will soon be. Of course, the big, beautiful Andromeda Galaxy, M31, is a spiral galaxy -- and a mere 2.5 million light-years away.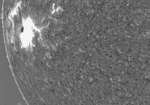 A Large Tsunami Shock Wave on the Sun
21.05.2022
Tsunamis this large don't happen on Earth. During 2006, a large solar flare from an Earth-sized sunspot produced a tsunami-type shock wave that was spectacular even for the Sun. Pictured here, the tsunami...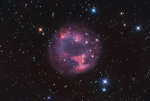 Planetary Nebula Abell 7
20.05.2022
Very faint planetary nebula Abell 7 is some 1,800 light-years distant, just south of Orion in planet Earth's skies in the constellation Lepus, The Hare. Surrounded by Milky Way stars and near...