Astronomy Picture Of the Day (APOD)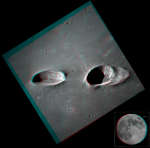 Messier Craters in Stereo
11.12.2020
Many bright nebulae and star clusters in planet Earth's sky are associated with the name of astronomer Charles Messier from his famous 18th century catalog. His name is also given to these two large and remarkable craters on the Moon.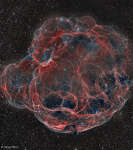 Simeis 147: Supernova Remnant
10.12.2020
It's easy to get lost following the intricate looping filaments in this detailed image of supernova remnant Simeis 147. Also cataloged as Sharpless 2-240 it goes by the popular nickname, the Spaghetti Nebula.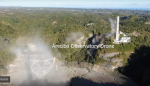 Arecibo Telescope Collapse
9.12.2020
This was one great scientific instrument. Starting in 1963, the 305-meters across Arecibo Telescope in Puerto Rico USA reigned as the largest single-dish radio telescope in the world for over 50 years. Among numerous...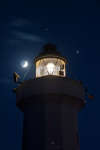 Great Conjunction over Sicilian Lighthouse
8.12.2020
DonБt miss the coming great conjunction. In just under two weeks, the two largest planets in our Solar System will angularly pass so close together in Earth's sky that the Moon would easily be able to cover them both simultaneously. This pending planetary passage -- on December 21 -- will be the closest since 1623.
Mammatus Clouds over Mount Rushmore
7.12.2020
What's that below those strange clouds? Presidents. If you look closely, you may recognize the heads of four former US Presidents carved into famous Mount Rushmore in South Dakota, USA. More obvious in the featured image are the unusual mammatus clouds that passed briefly overhead.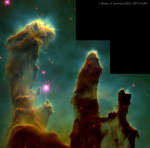 M16: Pillars of Star Creation
6.12.2020
These dark pillars may look destructive, but they are creating stars. This pillar-capturing image of the inside of the Eagle Nebula, taken with the Hubble Space Telescope in 1995, shows evaporating gaseous globules (EGGs) emerging from pillars of molecular hydrogen gas and dust.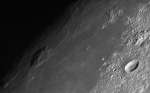 Mons Rumker in the Ocean of Storms
5.12.2020
Mons Rumker, a 70 kilometer wide complex of volcanic domes, rises some 1100 meters above the vast, smooth lunar mare known as Oceanus Procellarum, the Ocean of Storms. Daylight came to the area late last month.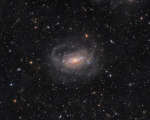 Curly Spiral Galaxy M63
4.12.2020
A bright spiral galaxy of the northern sky, Messier 63 is nearby, about 30 million light-years distant toward the loyal constellation Canes Venatici. Also cataloged as NGC 5055, the majestic island universe is nearly 100,000 light-years across, about the size of our own Milky Way.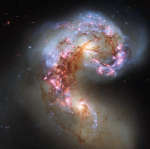 The Antennae Galaxies in Collision
3.12.2020
Sixty million light-years away toward the southerly constellation Corvus, these two large galaxies are colliding. The cosmic train wreck captured in stunning detail in this Hubble Space Telescope snapshot takes hundreds of millions of years to play out. Cataloged as NGC 4038 and NGC 4039, the galaxies' individual stars don't often collide though.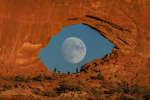 Eye of Moon
2.12.2020
Who's watching who? The featured image of the Moon through a gap in a wall of rock may appear like a giant eye looking back at you. Although, in late October, it took only a single exposure to capture this visual double, it also took a lot of planning.