Astronomy Picture Of the Day (APOD)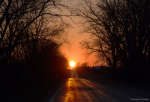 A Picturesque Equinox Sunset
20.03.2022
What's that at the end of the road? The Sun. Many towns have roads that run east - west, and on two days each year, the Sun rises and sets right down the middle. Today is one of those days: an equinox.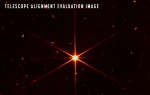 2MASS J17554042 6551277
19.03.2022
2MASS J17554042+6551277 doesn't exactly roll off the tongue but that's the name, a coordinate-based catalog designation, of the star centered in this sharp field of view. Fans of the distant universe should get used to its spiky appearance though.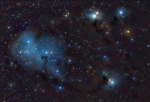 A Filament in Monoceros
18.03.2022
Bluish reflection nebulae seem to fill this dusty expanse. The sharp telescopic frame spans over 1 degree on the sky toward the faint but fanciful constellation Monoceros, the Unicorn. Seen within the Monoceros...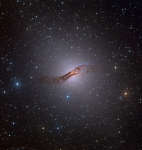 Centaurus A
17.03.2022
A mere 11 million light-years away, Centaurus A is the closest active galaxy to planet Earth. Spanning over 60,000 light-years, the peculiar elliptical galaxy also known as NGC 5128, is featured in this sharp telescopic view.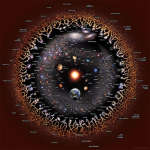 The Observable Universe
16.03.2022
How far can you see? Everything you can see, and everything you could possibly see, right now, assuming your eyes could detect all types of radiations around you -- is the observable universe. In light...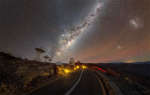 A Road to the Stars
15.03.2022
Pictured -- a very scenic road to the stars. The road approaches La Silla Observatory in Chile, with the ESO's 3.6-meter telescope just up ahead. To the left are some futuristic-looking support structures...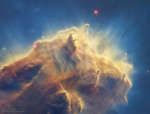 Star Formation in the Eagle Nebula
14.03.2022
Where do stars form? One place, star forming regions known as "EGGs", are being uncovered at the end of this giant pillar of gas and dust in the Eagle Nebula (M16). Short for evaporating gaseous globules, EGGs are dense regions of mostly molecular hydrogen gas that fragment and gravitationally collapse to form stars.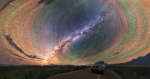 Colorful Airglow Bands Surround Milky Way
13.03.2022
Why would the sky glow like a giant repeating rainbow? Airglow. Now air glows all of the time, but it is usually hard to see. A disturbance however -- like an approaching storm -- may cause noticeable rippling in the Earth's atmosphere.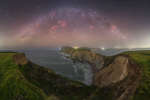 Point Reyes Milky Way
12.03.2022
Northern winter constellations and a long arc of the Milky Way are setting in this night skyscape looking toward the Pacific Ocean from Point Reyes on planet Earth's California coast. Sirius, alpha star of Canis Major, is prominent below the starry arc toward the left.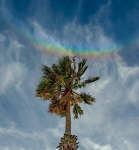 When Rainbows Smile
11.03.2022
Want to see a rainbow smile? Look near the zenith (straight up) when the sun is low in the sky and you might. This example of an ice halo known as a circumzenithal arc was captured above a palm tree top from Ragusa, Sicily on February 24.