Astronomy Picture Of the Day (APOD)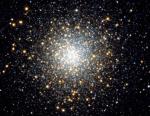 Hydrogen, Helium, and the Stars of M10
30.06.2001
Stars like the Sun use hydrogen for fuel, "burning" hydrogen into helium at their cores through nuclear fusion. But what happens when that hydrogen runs out? For a while, hydrogen burns in a shell surrounding the stellar core and the star expands to become a red giant.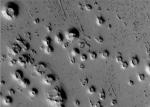 Ice Volcanoes on Mars
29.06.2001
What causes these unusual cone-shaped features on Mars? Spanning an average of only 100 meters at the base, these small cones appear near massive Martian volcanoes such as Olympus Mons. Near the cones are also dry channels and eroded banks.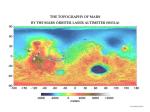 The Topography of Mars
28.06.2001
Mars has its ups and downs. Visible on the above interactive topographic map of the surface of Mars are giant volcanoes, deep valleys, impact craters, and terrain considered unusual and even mysterious. Particularly notable...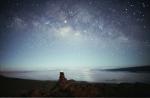 Moonlight, Mars and Milky Way
27.06.2001
Aloha and welcome to a breath-taking skyscape. In this celestial scene, a four day old Moon illuminates a dreamlike foreground while bright planet Mars (above center) rules and the Milky Way's cosmic clouds of stars and dust seem to stretch from horizon to horizon.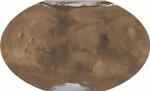 All of Mars
26.06.2001
From pole to pole, from east to west, this is all of Mars. The above picture was digitally reconstructed from over 200 million laser altimeter measurements taken by the Mars Global Surveyor spacecraft currently orbiting Mars.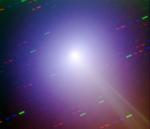 A Brighter Comet LINEAR
25.06.2001
Brighter than ever expected, comet LINEAR -- you know, the one designated C/2001 A2 -- is a sight to see in southern skies. This comet LINEAR first brightened impressively in late March as its active nucleus began to fragment, prompting some speculation that the comet might soon break up completely.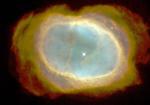 NGC 3132: The Eight Burst Nebula
24.06.2001
It's the dim star, not the bright one, near the center of NGC 3132 that created this odd but beautiful planetary nebula. Nicknamed the Eight-Burst Nebula and the Southern Ring Nebula, the glowing gas originated in the outer layers of a star like our Sun.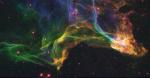 The Cygnus Loop
23.06.2001
The shockwave from a 20,000 year-old supernova in the constellation of Cygnus supernova explosion is still expanding into interstellar space. The collision of this fast moving wall of gas with a stationary cloud...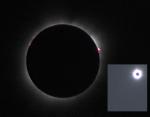 Eclipse in African Skies
22.06.2001
Yesterday, for a brief few minutes, a total eclipse of the Sun brought darkness to southern Africa's daytime skies. During this first total solar eclipse of the third millennium webcast sites were swamped, but sun-watchers along the eclipse path enjoyed clear weather and reported fantastic views.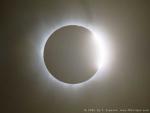 Diamond Ring in the Sun
21.06.2001
Today, earthbound skygazers can celebrate a solstice, a new Moon, the closest approach of planet Mars since 1988 ... oh yes, and a total eclipse of the Sun, the first total solar eclipse of the third millennium.