Astronomy Picture Of the Day (APOD)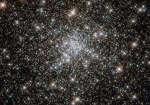 At the Core of NGC 6752
10.02.2012
This sharp Hubble Space Telescope view looks deep into NGC 6752. Some 13,000 light-years away toward the southern constellation Pavo, the globular star cluster roams the halo of our Milky Way galaxy. Over...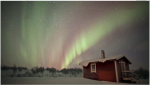 Trees, Stars, Aurora
9.02.2012
Have you ever seen an aurora? Auroras are occurring again with increasing frequency. With the Sun being unusually dormant over the past four years, the amount of Sun-induced auroras has been unusually low. More recently, however, our Sun has become increasingly active and exhibiting a greater abundance of sunspots, flares, and coronal mass ejections.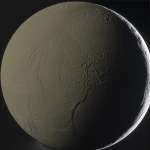 Enceladus Backlit by Saturn
8.02.2012
This moon is shining by the light of its planet. Specifically, a large portion of Enceladus pictured above is illuminated primarily by sunlight first reflected from the planet Saturn. The result is that the normally snow-white moon appears in the gold color of Saturn's cloud tops.

The Belt of Venus Over Mercedes Argentina
7.02.2012
Although you've surely seen it, you might not have noticed it. During a cloudless twilight, just before sunrise or after sunset, part of the atmosphere above the horizon appears slightly off-color, slightly pink or orange.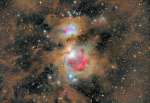 Dust of the Orion Nebula
6.02.2012
What surrounds a hotbed of star formation? In the case of the Orion Nebula -- dust. The entire Orion field, located about 1600 light years away, is inundated with intricate and picturesque filaments of dust.

Lunation
5.02.2012
Our Moon's appearance changes nightly. This time-lapse sequence shows what our Moon looks like during a lunation, a complete lunar cycle. As the Moon orbits the Earth, the half illuminated by the Sun first becomes increasingly visible, then decreasingly visible. The Moon always keeps the same face toward the Earth.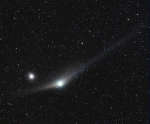 Comet Garradd and M92
4.02.2012
Sweeping slowly through the constellation Hercules, Comet Garradd (C2009/P1) passed with about 0.5 degrees of globular star cluster M92 on February 3. Captured here in its latest Messier moment, the steady performer remains just below naked-eye visibility with a central coma comparable in brightness to the dense, well-known star cluster.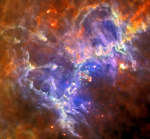 Inside the Eagle Nebula
3.02.2012
In 1995, a now famous picture from the Hubble Space Telescope featured Pillars of Creation, star forming columns of cold gas and dust light-years long inside M16, the Eagle Nebula. This remarkable false-color composite image revisits the nearby stellar nursery with image data from the orbiting Herschel Space Observatory and XMM-Newton telescopes.
La Silla Star Trails North and South
2.02.2012
Fix your camera to a tripod and you can record graceful trails traced by the stars as planet Earth rotates on its axis. If the tripod is set up at ESO's La Silla Observatory, high in the Atacama desert of Chile, your star trails would look something like this.
Red Aurora Over Australia
1.02.2012
Why would the sky glow red? Aurora. Last week's solar storms, emanating mostly from active sunspot region 1402, showered particles on the Earth that excited oxygen atoms high in the Earth's atmosphere. As the excited element's electrons fell back to their ground state, they emitted a red glow.