Astronomy Picture Of the Day (APOD)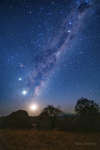 Moon, Four Planets, and Emu
8.02.2019
A luminous Milky Way falls toward the horizon in this deep skyscape, starting at the top of the frame from the stars of the Southern Cross and the dark Coalsack Nebula. Captured...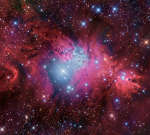 Fox Fur, Unicorn, and Christmas Tree
7.02.2019
Clouds of glowing hydrogen gas fill this colorful skyscape in the faint but fanciful constellation Monoceros, the Unicorn. A star forming region cataloged as NGC 2264, the complex jumble of cosmic gas and dust...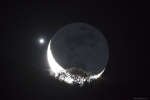 Moon and Venus Appulse over a Tree
6.02.2019
What's that bright spot near the Moon? Venus. About a week ago, Earth's Moon appeared unusually close to the distant planet Venus, an angular coincidence known as an appulse. Similar to a conjunction, which is a coordinate term, an appulse refers more generally to when two celestial objects appear close together.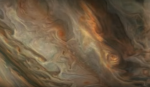 Perijove 16: Passing Jupiter
5.02.2019
Watch Juno zoom past Jupiter again. NASA's robotic spacecraft Juno is continuing on its 53-day, highly-elongated orbits around our Solar System's largest planet. The featured video is from perijove 16, the sixteenth time that Juno has passed near Jupiter since it arrived in mid-2016.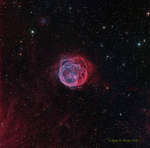 Henize 70: A Superbubble in the LMC
4.02.2019
Massive stars profoundly affect their galactic environments. Churning and mixing interstellar clouds of gas and dust, stars -- most notably those upwards of tens of times the mass of our Sun -- leave their mark on the compositions and locations of future generations of stars.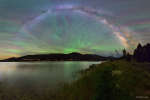 An Airglow Fan from Lake to Sky
3.02.2019
Why would the sky look like a giant fan? Airglow. The featured intermittent green glow appeared to rise from a lake through the arch of our Milky Way Galaxy, as captured during 2015 next to Bryce Canyon in Utah, USA.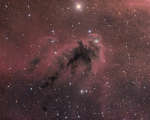 LDN 1622: Dark Nebula in Orion
2.02.2019
The silhouette of an intriguing dark nebula inhabits this cosmic scene. Lynds' Dark Nebula (LDN) 1622 appears against a faint background of glowing hydrogen gas only easily seen in long telescopic exposures of the region.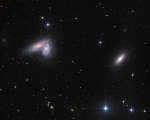 Twin Galaxies in Virgo
1.02.2019
Spiral galaxy pair NGC 4567 and NGC 4568 share this sharp cosmic vista with lonely elliptical galaxy NGC 4564. All are members of the large Virgo Galaxy Cluster. With their classic spiral arms, dust lanes, and star clusters, the eye-catching spiral pair is also known as the Butterfly Galaxies or the Siamese Twins.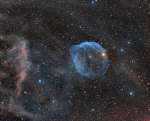 Sharpless 308: Star Bubble
31.01.2019
Blown by fast winds from a hot, massive star, this cosmic bubble is huge. Cataloged as Sharpless 2-308 it lies some 5,200 light-years away toward the constellation of the Big Dog (Canis Major) and covers slightly more of the sky than a Full Moon.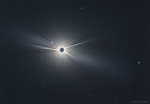 Wide Field View of Great American Eclipse
30.01.2019
Only in the fleeting darkness of a total solar eclipse is the light of the solar corona easily visible. Normally overwhelmed by the bright solar disk, the expansive corona, the sun's outer atmosphere, is an alluring sight.